"The disaster-relief supplies here are sufficient; and there has been no case of epidemic disease reported so far, thanks to the effective prevention work," Yuan Rong, news center officer with the Mianyang Disaster-Relief Center Headquarter, told Beijing Review.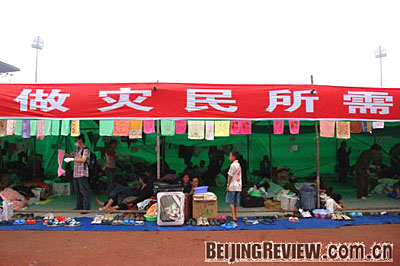 A row of temporary housing tents at the Center. (Photo by JING XIAOLEI)
Housed in the city's Nanhe Sports Stadium since May 14, the Center has received some 10,000 quake-hit victims, according to Yuan.
Rows of relief housing tents have been erected on the lawn. "They lead a relatively comfortable life here," said Yuan. "They eat, chat, sleep and sometimes play cards. Three meals a day and fruits are guaranteed; simple facilities are also available for entertainment."
"We feel safe here because we can eat and sleep, although it's a bit weird to sleep in a tent," said an elderly lady, as she carried her grandson on her back for a short walk.
Every hour, cleaners wearing masks go from row to row, collecting trash. "We spray disinfectant several times a day in the rows and around the stadium to prevent epidemics. Fortunately, there is no case reported so far," said Zeng Tao, a cleaner.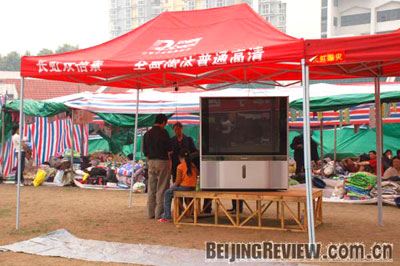 Quake victims can watch live broadcasts of quake relief coverage every day. (Photo by JING XIAOLEI)
Entertainment facilities, including several huge televisions, have been erected near the tents. "They can watch CCTV's live broadcast of quake relief, and an open-air movie at night," said Yuan. "Sandbags are also available for them to exercise with."
Moreover, a temporary radio station broadcasts notices, disease prevention warnings, as well as songs to soothe and comfort victims.
The biggest challenge, according to Yuan, is how to manage the quake affected.
"We are now taking measures to let them manage themselves, for the sake of the long term," said Yuan. "After all, we have to go back to work; and the student volunteers have to go back to school.
"We'll do it step by step. Currently, several victims, who are also Party members, have joined the center's administrative team. The rest will be divided into several groups for self-management and restoration of life and property."