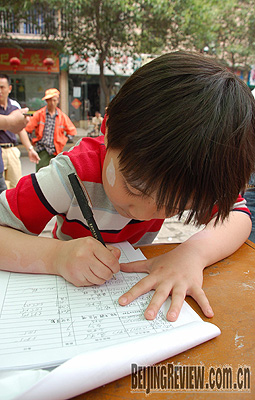 YOUNG DONOR: A 7-year-old boy in Chengdu, capital of Sichuan, fills in a form to donate his pocket money to the injured in quake-hit areas not far from his hometown
Wang Peihua, a 50-year-old Nanjing resident, got up early on the morning of May 14, two days after a 7.8-magnitude earthquake devastated southwest China's Sichuan Province. She had planned to donate blood for those injured.
When she arrived at the local blood center, she was surprised to find a queue already 100 meters long. It was a common scene across China in the wake of this disaster.
"The blood bank in Beijing has been filled to capacity," the Beijing Red Cross Blood Center announced on May 14, telling Beijing citizens to wait for notice of further blood demand.
Besides blood, people are donating money to help displaced victims. Account information of where to donate spread quickly on the Internet and a special service was provided to allow mobile phone users to donate by sending text messages.
Individuals, enterprises and organizations all over the country are giving what they can to help the victims.
Statistics from the Ministry of Civil Affairs show that, as of 3 p.m. on May 15, all donations-cash and goods-totaled 1.34 billion yuan ($192 million), among which, the Ministry of Civil Affair received 58 million yuan ($8.29 million), the Red Cross Society of China got 624 million yuan ($89.14 million), the China Charity Federation collected 220 million yuan ($31.43 million), provincial-level governments donated 380 million yuan ($54.29 million), and enterprises and non-governmental organizations gave 62.13 million yuan ($8.88 million).
According to the State-owned Assets Supervision and Administration Commission of the State Council (SASAC), as of 6 p.m. on May 15, 94 state-owned enterprises directly affiliated to the SASAC donated cash and goods totaling 639.67 million yuan ($91.38 million).
The country's largest life insurer, China Life Insurance (Group) Co. announced on May 14 that it will support all children orphaned by the disaster, until they are 18.
China Life Chairman Yang Chao said the money will come from the China Life Charity Fund, which was set up last year with 50 million yuan ($7.14 million).
Meanwhile, Taiwan, Hong Kong and Macao all provided their support.
The Red Cross Society in Taiwan had pledged $300,000 for the relief efforts, according to Yang Yi, Spokesman of Taiwan Affairs Office of the State Council.
Enterprises and individuals in Taiwan had contributed more than 200 million yuan ($28.6 million) to disaster relief. Formosa Plastics Corp. donated 100 million yuan ($14.3 million) and Foxconn Technology Group gave 60 million yuan ($8.6 million).
The Government of the Hong Kong Special Administrative Region (SAR) gave HK$350 million ($44.9 million) for the relief on May 14, following Macao SAR Government's donation of 100 million yuan ($14.2 million) on May 13. The Macao Foundation also earmarked 10 million yuan ($1.43 million) as financial aid.
Residents of Hong Kong and Macao had donated nearly HK$200 million ($25.66 million) as of May 14, said the Hong Kong and Macao Affairs Office of the State Council.
The Hong Kong SAR Government has also sent a professional rescue and relief team to the quake-hit areas.
How to Donate
Ministry of Civil Affairs
Account number (renminbi): 11001007400058224610
Bank: Beijing Dongsi branch of China Construction Bank
Account number (foreign currency): 00100252328091014
Bank: Bank of China
Hotline: (8610) 58123111, 58123222, 58123611, 58123617, 58123612
Red Cross Society of China
Account number (renminbi): 0200001009014413252
Bank: Beijing branch of Industrial and Commercial Bank of China
Account number (foreign currency): 7112111482600000209
Bank: Beijing Jiuxianqiao branch of CITIC Bank.
Hotline: (8610) 65139999, 64027620
Website: www.redcross.org.cn
China Charity Federation
Account number (renminbi): 0200002809014450409
Bank: Beijing Xisi branch of Industrial and Commercial Bank of China
Account number (foreign currency): 00100914908091014
Bank: Bank of China
Hotline: (8610) 66083191, 66083260, 66055848
Website: www.usnow.org, www.chinacharity.cn