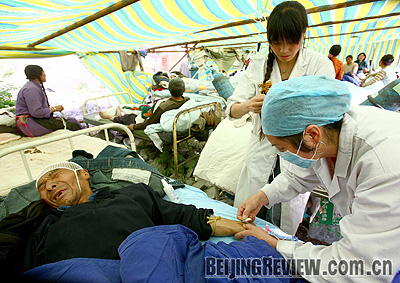 TENT HOSPITAL: A doctor from the People's Hospital in Lixian County, Sichuan Province, treats a patient on May 16, after the county was hit by the deadly earthquake four days earlier
We arrived in Beichuan County early May 14, three days after the earthquake had struck Sichuan. Temporary rescue measures could be seen everywhere, and the crumpled building that had been Qushan Primary School was now a twisted mass of wood and steel. The county was one of the worst hit areas. Roads to the county, blocked by severe landslides, had yet to be cleared, so large rescue machinery were unable to get through. Soldiers dug at the school site with bleeding hands day and night in the hope of rescuing more children from the rubble.
At one point they found a girl lying on her back below a dangerously loose section of roofing supported by two wooded beams. Her left leg was pinned tightly under a huge concrete slab, and she was gasping for air. Before finding a way to get her out, rescuers took turns to comfort the weak girl, while one of them gave her water.
Shi Tiandan, officer in charge of the rescue operations, told us that the girl, a 12-year-old fourth grader named Li Yue, had lain there for 65 hours. Despite their persistent efforts, rescuers failed to extract her and there was grave concern for her life. What made matters worse was the fact that if they did not get Li out, they could not get in to save other children buried near her, and the longer she stayed there the more danger of an aftershock cave in became a threatening factor.
Amputation was the only solution for saving her life, according the medical and rescue workers on the spot. But Li's mother and grandfather repeatedly rejected this suggestion. With time running out another question arose. Who would perform the amputation in the dark cramped conditions? Were the doctors in the rescue team qualified to perform such an operation? Rescuers put out an emergency call for any surgeons in the vicinity. In the meantime they finally persuaded Li's distraught mother to accept the decision to amputate.
It wasn't long before good news came over the radio. A medical team from the Navy General Hospital in Beijing had arrived in Beichuan. Navy doctors clad in blue uniforms reached the school at 9 a.m. Shortly after, a medical team from the General Hospital of Chengdu Military Area Command also arrived to offer assistance. A total of six military surgeons, all experts in this field, were now available, along with 21 nurses from Kunming military hospital providing support.
The doctors and nurses set out preparing for the surgery on a rocky hillside nearby, calling in additional anesthetics from a medical team 2 km away.
After anesthetizing Li, He Qiong, the leading surgeon, and Ruan Mo, an orthopaedician, squatted into the dark hollow to begin operating. Zhu Zhiming, Deputy Director of the Medical Affairs Department of the Navy General Hospital, served as a coordinator outside, with the team of nurses standing by.
"Flashlight!"
"Haemostatic forceps!"
"Gauze!"
Nurses handed over the various medical instruments, their dexterous fingers ensuring nothing slipped into the darkness. They cooperated so well that it seemed that they were from the same hospital and had worked as a team for many years.
Since the earthquake struck on May 12, Beichuan had been repeatedly rocked by countless aftershocks daily. If an aftershock came during the operation, the building would have surely collapsed, killing Li and the doctors operating on her.
The atmosphere was tense and in the silence everyone held their breath. Light from a flashlight and camera flash guns from different directions provided enough illumination for the surgeons to work in their makeshift operating theater.
At 11:30 a.m doctors announced that the surgery was successful. Soldiers who had been waiting at the cave lifted Li out and carried her from the ruins to the schoolyard on a stretcher covered with pink quilts. While nurses administered drugs and fed her water, we asked Doctor He what it had felt like to operate under such harsh conditions.
"I could not turn around," he replied, "and I had to be quick."
Li did not cry out when she found her left leg was gone, instead she was grateful that her life had been saved.
(Reporting from Beichuan County, Sichuan Province)