The scene in Sichuan's Dujiangyan City was chaotic. At a pile of rubble that had been a residential building days before, the roar of cranes, frantic digging of soldiers and local residents eager to help brought the rescue efforts clearly into focus. There was only one objective here--to save lives and save them as fast as possible. A medical team stood by waiting.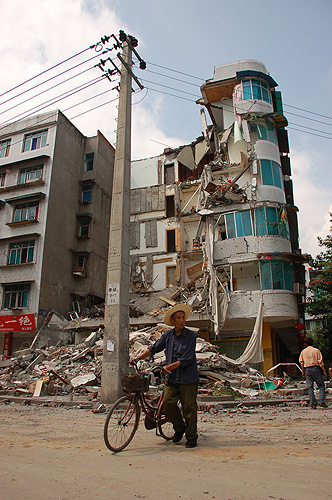 A collapsed building at the Xingfu Xiaoqu residential complex in Dujiangyan
JING XIAOLEI/BEIJING REVIEW
The devastation had been caused by an earthquake, measuring 7.8 on the Richter scale, that struck Sichuan Province on the afternoon of May 12. Wenchuan County was at the epicenter of the quake. Dujiangyan is located nearby.
"There's a man alive. He's half buried under a big cement floor and his legs are broken," barked Liu Zheng, a police officer from a neighboring county. He told Beijing Review that efforts to rescue this man started one hour ago and it would take at least another half an hour to get him out.
"It's no easy a task," he said, and turned down this reporter's request to get closer to the scene as a nearby building was unstable and looked likely to collapse.
Near the rescue scene, Wang, a crane driver showed Beijing Review pictures of the half buried man that he had taken. The pictures showed a 20-something young man in red T-shirt with his body below the waist covered in bricks and cements. He looked terrified and there was blood on his face.
"I do hope he's all right," the driver said. Not far from the remains sat two medical workers wearing masks, with their eyes fixed on the rescue site, waiting. One of them said about eight dead bodies had been found in the remains of this building alone on the morning of May 14.
The streets of the city were busy. Trucks carrying aid, police cars, recovery vehicles and ambulances were in constant motion.
By the side of a broad street, Chen Guiqin, a 28-year-old bank official, sat with a trembling puppy in her arms. "You know what, I have begun to like the color blue. It makes me feel safe," she said . Behind her a long line of blue tents, all bearing the Chinese characters meaning "disaster relief," stretched into the distance.
A woman sits with her dog outside a tent given to her by the government as part of its relief work in Dujiangyan
JING XIAOLEI/BEIJING REVIEW
Chen used to live in the eastern part of the city with her family, but the earthquake had left her and her family homeless overnight. They had to sleep outdoors the first night until the next day when their new blue "home" arrived and kept them dry from the cold rain.
"I hate it so much to stay outside for the night. I think we owe a lot to those soldiers who gave us the tent and put it up for us" Chen spoke to her puppy as if it could understand. She told Beijing Review that while she and her family had fortunately survived the earthquake, many of the residents from her building were still buried in the debris.
In Xipu Township, Pixian County, about 30 km away from Dujiangyan, three big tents had already been set up around the main building of the local hospital to receive the injured.
"We moved the beds out of the building to avoid aftershocks," said Gan Huashan, the hospital's president. He added that the hospital had taken in 96 earthquake patients as of May 14 and nearly half of them had recovered and moved out of the hospital.
Among the patients there, most of whom suffered trauma and fractures, was a boy wearing a eye-catching orange T-shirt who sat quietly on a bed. He focused on the food in his hands and kept his head down to avoid the attention of others to the big scar on the right side of his face.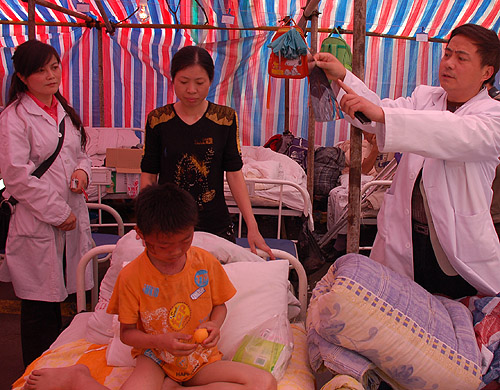 A doctor explains the nature of a boy's wounds inside a makeshift hospital tent in Dujiangyan
JING XIAOLEI/BEIJING REVIEW
"I really miss my school and my classmates now," the boy, named Xiong Yao, told Beijing Review, avoiding eye contact as he spoke. His mother, who stood beside him, cut in to explain how her 10-year-old son had ended up in hospital. She didn't want him to relive the frightening memory on the afternoon of May 12.
Xiong, who was a Grade-4 student in the local primary school, was crushed in the stampede of students rushing down the stairs of their building after the earthquake struck. He was trampled so badly that he suffered from shock and lost consciousness.
"The nurses cried when my little boy was taken to hospital by a school security guard and a gym teacher, they had never seen a kid so badly injured. The doctors tried their best to save him and they didn't believe it when my boy finally recovered. It was like a miracle," the mother said.
The earthquake patients in the hospital received free treatment and accommodation and the government was responsible for their food, said President Gan.
"The doctors and nurses were so kind and they had treated my boy with great care. I'm so grateful to everyone who has helped us," said the mother.
The quake has seen strangers helping others before thinking of themselves. A woman surnamed Cai in her fifties and living in a tent in Dujiangyan would never forget the moment when a stranger gave her 4-year-old grandson three steamed buns.
"He was also an earthquake sufferer who has little food himself. He was all alone as he had lost all his family members in the earthquake. He said now all he could do was help the children," Cai said.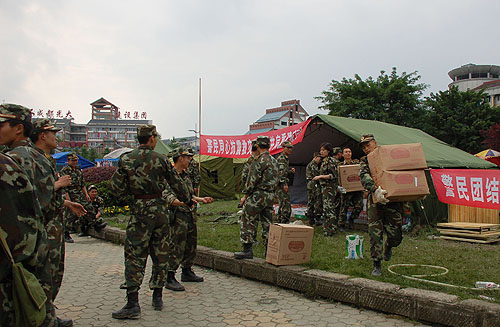 The army distributes relief supplies in Dujiangyan
JING XIAOLEI/BEIJING REVIEW
In the provincial capital city Chengdu, people were taking the initiative to help sufferers. Long queues had formed to donate blood in front of dozens of the blood donation stations in the city. Chen Dongliang, a company employee, had never donated blood before but he asked a day's leave from his company to make a donation.
"I feel like I must do something to help them when I saw the victims on TV," Chen said, adding that after the donation he would go to the supermarket with several colleagues to buy some food and water and then they would drive to Dujiangyan to work as a volunteer.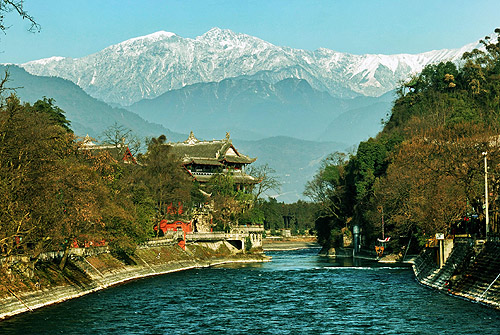 A panoramic view of Dujiangyan 
 ZHANG QUANSHENG