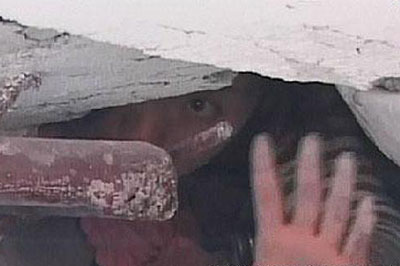 At 3:50 p.m. on May 15, 2008, rescue workers and onlookers at a collapsed residential building site in Hehuachi Market of Dujiangyan City burst into applause as a lucky survivor was finally pulled out of the rubble.
Yue Liuhui, 22, a waitress, lived on the third floor of the 5-storey building, which was totally ruined in the quake.
"I was about to take a shower when the quake struck," Yue recalls. She was then trapped alone in a triangle-shaped tiny space with minor traumas.
At 10 a.m., the rescue team heard Yue's voice from the debris. The skilled firefighters began rescue operations without a second thought.
"I was here waiting for your help, for I strongly believed that you would finally find me and pull me out of the rubble. I would shout 'Help!' when I heard voices from afar, and keep silent to save energy when the quietness was deafening outside," noted Yue.
"I am so happy now because I'm still alive. Please don't worry about me. I'll take care of myself. I really appreciate you coming here and saving me," Yue continued as she waved to rescuers, under the rubble.
The 350-minute-long rescue operation paid off. Yue was reunited with her family and soon transferred to hospital by ambulance.
"Don't cry, Mummy. I did not drop tears even if I was stranded under the rubble. We should be happy, right?" Yue comforted her mother with a big smile.