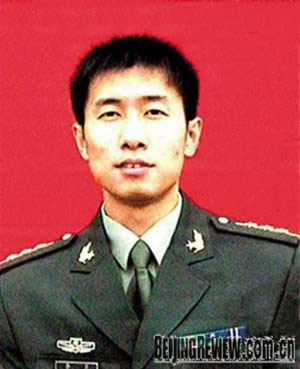 Thirteen minutes after the quake, the military had already put the emergency response mechanism into effect. Within 10 hours, more than 12,000 personnel from the People's Liberation Army (PLA) and the armed police had been sent for and reached the quake zone to take immediate action as rescuers. Li Yue, 28, was among them.
Born in August 1980 in Kaiyuan City, northeast China's Liaoning Province, Li was the only child of his family. He joined the army in 1999 and graduated from the Army Aviation Institute of PLA in 2003.
He was assigned to several major missions, including the recovery of Shenzhou VI, China's second manned spacecraft launched in 2005; the Sino-India joint military exercise in 2007; and relief work in fighting against snowstorms in southern China in January this year. His accumulated flight time reached 565 hours.
"As far as I know, Li was voluntarily on duty on every lunar New Year's Eve (the most important occasion for family reunions in Chinese culture) to make way for his peers' reunion," Wang Chaoyong, a colleague of Li recalls.
In January this year, Li tied the knot with Wang Yu. A honeymoon trip was a longtime desire for the newlywed couple, but the idea seemed to be an armchair plan as Li was always busy working.
Li worked as a pilot and finished 11 aviation missions to the worst quake-damaged areas, between May 12 and May 30. According to his colleagues, Li did research on quake zone maps every night to choose appropriate flight paths and airdrop locations, regardless of whether there would be new missions for him or not. "I am ready to fly at any time, because I am a pilot," Li once said.
Unfortunately, bad weather caused the Mi-171 military transport helicopter that Li co-piloted to crash in mountains at 2:56 p.m. on May 31, on a return trip from the epicenter to Chengdu. The crash site and the dead bodies of the five crewmembers and 13 injured civilians aboard were finally found 12 days later.
The funeral was held in Chengdu on June 13. Li Yue was awarded a posthumous first-rank merit by the Chengdu Military Command Area.