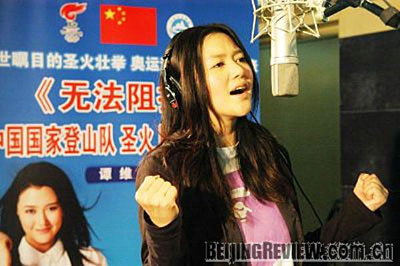 Tan, 25, grew up in a small town in Sichuan Province and came to national fame in the summer of 2006 after winning second place in 'Super Girl,' a nationwide singing competition similar to American Idol.
Tan was preparing her fan club party in Chengdu, capital of Sichuan Province, when the quake struck.
"People in Chengdu rushed to disaster relief work soon after the quake; I was no exception," said Tan, who donated blood in the early hours of the aftermath. "It brought me to think deeply on the meaning of life. More importantly, I was deeply moved by what I witnessed, for this was the first time ever that I could feel the unity and love from people all around me."
When Tan took action as a disaster relief volunteer in Dujiangyan City, several friends of hers, coming all the way from their hometown, voluntarily drove two trucks of disaster relief supplies to reach Beichuan County, one of the worst damaged areas. Tan joined her friends on May 22. During her two-day stay there, she worked as a volunteer in daytime and sang songs to pep up survivors and rescuers at night.
Tan spent the following five days at another heavily damaged area in Anxian County. She shifted building materials for resettlement site construction; distributed clothes, food and drinking water for survivors; shared a housing tent with other volunteers. Few could really be aware of the existence of the "super girl" star working beside them.
"I didn't go outside Chengdu, in case there were charity shows for the quake victims," said Tan, who stayed at the scene of the disaster relief work for 16 days, between May 12 and May 28. "I rearranged my schedule, and cancelled all work in the following months, because I made up my mind to aid the reconstruction work in the quake zone."
"Facing such disaster, I'm not the singer Tan Weiwei, just an ordinary Sichuan girl who is willing to help her hometown as best as she can," she added.