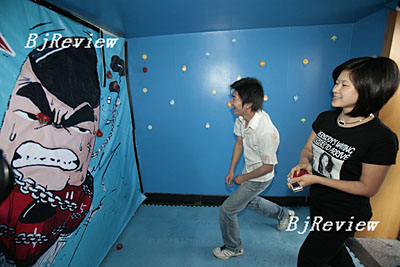 STRESS RELIEF: Two post-80s-generation company employees release their stress by throwing rubber apples at cartoon characters on the wall at a stress-relief center inside an office building in Hangzhou, Zhejiang Province
"I've been working for almost a year and have no savings at all," said Feng Yuanyuan, a 23-year-old girl who works for a local advertising company in Beijing. She said that she is penniless at the end of each month.
It was the first job that Feng, originally from southwest China's Sichuan Province, took after graduating from Beijing Foreign Studies University in July 2007. "It doesn't pay well," Feng said. As a rookie employee in the company, Feng said her salary was no more than 3,000 yuan ($417) per month.
But the optimistic Feng had brighter story to tell. "Though the salary is not satisfying, I like my job as there's so much I can learn in the company and my colleagues are all kind and friendly people," she said. "Besides, my payment will go up as my experience accumulates."
The consumption generation
One third of her salary goes to rent and the rest is spent on food, shopping and entertainment, according to Feng, who is somewhat typical of China's post-80s generation who may not know how to save money but definitely know how to spend it.
In the next few years some 200 million Chinese youngsters belonging to the post-80s generation will play the lead role in driving China's consumer market. Having experienced economic globalization and Internet development as well as growing up in a market-oriented economy, this generation has a totally different consumer attitude from their parents and an increasing influence on the social consumption structure.
"This generation has no idea of thrift because as they grew up, they lived in an environment with a rich supply of commodities," said Xing Yuan, Professor in sociology at Shanxi University.
Wu Tian has been working for three years in a foreign-funded telecommunications company in Beijing with a monthly salary of 5,000 yuan ($694).
"My income is somewhat higher than the average level of people the same age, but I still feel uptight," says the 27-year-old Wu, adding that this seems to be a common problem for the post-80s generation.
Aside from food and daily necessities, Wu's money is spent on clothes, fitness, entertainment and occasional travel.
"I have no idea where my money goes," Wu said, while playing games on a new Nokia cellphone he bought a few days ago for 3,400 yuan ($472).
This generation avidly pursues trendy, fresh ideas and new ways of living. Online shopping, for instance, is becoming commonplace in China. More than one quarter of Internet users now shop online.
Older Chinese people usually spend their money primarily on family assets such as housing and electrical appliances. But this new generation, influenced by advertising, video and the Internet, is more interested in sensory consumption, spending money on CDs, interactive games, travel, social gatherings and fitness.
These youngsters are attracted to luxury consumer goods and have a distinctive preference for designer products. To them, computers, MP3s, digital cameras and other digital products are "must-haves." Many people belonging to this generation are very extravagant and want to keep up with trends.
Xia Jianzhong, Professor at the Sociology Department of Renmin University of China, believes that the post-80s generation cannot be criticized for their desire to spend and develop a distinctive personality, as their habits reflect their age and their willingness to accept new things. A preference for modern appliances and enthusiasm for emerging electronic products promote scientific and technological innovation and progress, and these are the strengths of this generation, he emphasized.
The bitterness
This generation can be divided into different groups and some of them have been tasting the bitterness of life, even though they are economically independent.
"No money and no house," lamented a programmer working at a French-based digital entertainment company in Beijing when asked about what was most unsatisfying about his current life.
Yuan Hongjie, 27, who writes programs for mobile phone games, actually made a monthly salary of more than 5,000 yuan ($694), which is above the average level in the city. He has been at this job for almost three years since his graduation from China's prestigious Peking University in 2005.
Like many of his colleagues, Yuan came from a remote province and went to college in the capital city and then lived there after graduation. "My parents want me to settle down here as soon as possible so that they will feel relieved." However, the unbearable high housing prices in Beijing keep many of the young migrants like Yuan away from the dream of owning a house of their own.
"I am mostly occupied by my work," Yuan noted, adding that he has to work overtime for 20 hours a month on average.
"I wish I could have a house of my own, warm and balmy," said Feng from the local advertising company. She is currently living with her boyfriend in a rented apartment. She hates that she and her boyfriend have to frequently move around the city to find a place to live.
Both Yuan and Feng confessed that they felt much pressure living in this fast-paced city with a high level of consumption.