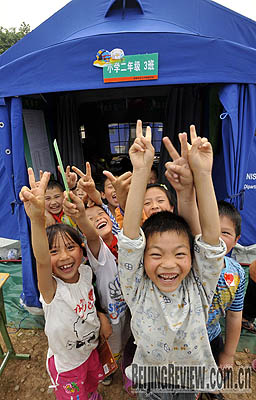 SCHOOL TIME: Children from some of the counties worst hit by the earthquake make a gesture of victory in front of their new tent school in Mianyang City
Children's Day, which falls on June 1, is a time for celebrating the younger generation around the world, but in China this year it is tinged with sadness. The 8.0-magnitude earthquake that ripped through Sichuan Province on May 12 claimed the lives of many children and left others orphaned and homeless. More still lost their schools, classmates and teachers.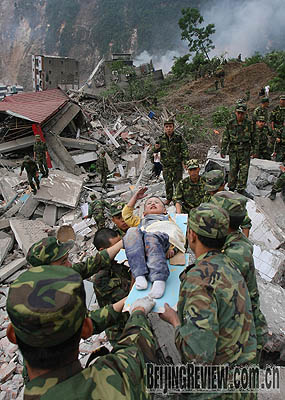 GRATEFUL SALUTE: Three-year-old Lang Zheng from Beichuan County salutes soldiers who dug him out of the rubble as they carry him to safety on a wooden board
As the relief work goes on, children are being healed physically and emotionally; they go back to school even if they are mostly taught in tents; those orphaned by the earthquake are guaranteed a stable life and good education provided by kind-hearted people whether adopted or living with relatives. Children in the earthquake zone are more than recipients of assistance. Their courage, optimism, gratefulness and sometimes a simple smile, inspires those around them in the belief that all hardship can be overcome eventually.