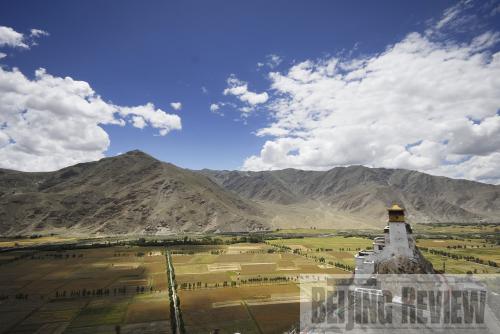 WELLSPRING OF TIBETAN CULTURE: Tibet's first palace, Yumbu Lhakang, is located in Shannan Prefecture (WEI YAO) 
Pink peach blossoms sprouting in southeast Tibet's Nyingchi Prefecture are attracting an increasing number of tourists every year who brave Tibet's winter to see the spectacle.
The Nyingchi Peach Blossom Festival, a major draw for Tibet's winter tourists, has been held in March every year since 2002.
"Before I came here, Tibet's winter in my imagination was too cold," a tourist surnamed Xie told Xinhua News Agency. "It was quite a surprise to see all these peach blossoms. It is so beautiful."
"It has become quite a hit for Tibetan tourism since the region saw fewer visitors after the riot on March 14, 2008," said Xu Lin, a tour guide at the Lhasa branch of the China Youth Travel Service.
In March 2008, Tibet's tourism hit a historic low. In that month, the region welcomed only 14,200 tourists, a decrease of 49 percent year on year. Its tourism income declined by 41 percent during the same period.
Tibet's tourism department carried out a range of measures, including price reductions, travel incentives and promotions to revive its tourism industry. To further stimulate development, Tibet plans to set up a 50-million-yuan ($7.32 million) fund this year specifically for tourism promotion and development.
"Tibetan tourism has recovered from the riot's influence," said Wang Songping, Deputy Director of the Tibet Tourism Association.
From January to June 2009, almost 1.5 million tourists came to Tibet, 3.4 times that of the same period in 2008, and an increase of 39 percent over the same period in 2007, association statistics show. Total tourism income reached 1.13 billion yuan ($165 million), three times that of the same period in 2008.
RICH HISTORY: Two foreign tourists take pictures in Lhasa's famous Potala Palace (WEI YAO) 
Officials will build Lhasa's first tourist information office and service center by the end of 2011, Wang said. The 15.7-million-yuan ($2.29-million) project will be located at the railway station square in downtown Lhasa. Travelers will be able to arrange accommodation and transport from 10 to 20 travel agencies in the city center. They will also be able to book agency services and bus tickets to destinations by telephone or on the center's website.
Winter Charm
Winter tourism in Tibet has seen a boom in recent years. In the past, the winter and spring seasons marked the off season for Tibet's tourism industry. But recent data reveal that Tibet saw an 83-percent year-on-year increase in tourists from January to May 2009.
Lhasa's winter temperatures average about 12 degrees Celsius, with daytime temperatures reaching even higher as a result of intense sunlight. Tibet's winter typically lasts from November to April.