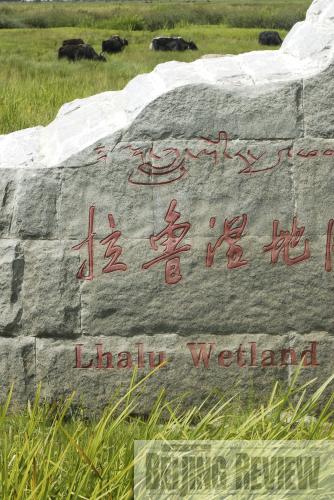 A-LIST: Lhalu Wetland was listed as a national nature reserve in 2005 (WEI YAO) 
In Lhasa, where the oxygen content is just 60 percent of that of the plain area, a place known as the "natural oxygen bar" is highly prized by residents.

BUSY DEFENDER: Quzha, deputy head of the Lhalu Wetland Management Office, is proud of the work he has done to protect the wetland (WEI YAO) 
Located northwest of the historic Potala Palace, Lhalu Wetland is a tranquil garden in the noisy city. As the highest wetland in the world with an average altitude of 3,645 meters, it has long drawn attention due to its rare position and important function.
The combination of Lhalu Wetland and Potala Palace with a strikingly blue sky has become one of the postcard images of Lhasa. Connecting with two valleys to the northeast, a residential area to the south and a mountain border to the northwest, Lhalu occupies an area of 6.6 square km and accounts for 11.7 percent of the city's total area. Scientists say the wetland is very important in a place deficient of breathable air because it generates 61,000 tons of oxygen and absorbs 78,800 tons of carbon dioxide each year. It also plays an important part in safeguarding the ecological balance, preserving biodiversity and improving the climate and environment of Lhasa.
Walking into Lhalu Wetland, a visitor is soon soaked in moist air and is surrounded by lush greenery.
Hard Times
Ten years ago, a totally different picture was presented to visitors, said Quzha, deputy head of the Lhalu Wetland Management Office, which was set up in 1999 to protect the natural area.
"There were only stones and sand here. We could hardly see any grass. Nothing could grow. And in windy weather, it was all dust," said Quzha.
In the 1960s, the wetland's area was 10 square km. Construction of new houses, fishponds and farmland over the following three decades diminished it to just 6.6 square km by the end of the 1990s. Wildlife and fish species were reduced. The wetland became crowded with fishermen, merchants, farmers and animal herds. More than 5,000 sheep and cattle nibbled grass there. Two prefabricated concrete parts factories operated in the wetland. Refuse and waste were everywhere and the formerly natural area was in complete disorder.
The set of problems made Quzha's task to reclaim the wetland difficult. They were ignored by most and angrily confronted by others, like the fishermen and merchants who relied on the wetland to earn a living. Quzha and his coworkers visited almost all the households nearby and explained to them the importance of protecting the wetland.
"They ignored us and made fun of us at the beginning, but we went there again and again until it finally worked," he said.
The group also printed leaflets to educate residents about protecting the wetland. Only after five years of efforts, in 2004, did they see their work start to pay off.
Another task facing them at the same time was no less challenging. With little professional knowledge of wetland protection, Quzha and his colleagues could only gather knowledge through their work.
"At the beginning, we could only use our imagination and common sense. We did something the first year and saw whether it worked the next year. If it worked, we would continue. That is how we recovered the wetland," he said.
Their methods seem to be working well. Tens of thousands of ducks and gulls have returned to Lhalu Wetland. More than 7,500 pine and willow trees were planted around the reserve and ecological conditions have improved. The wetland is springing back to life.
Support and attention
After setting up of the Lhalu Wetland Management Office, the government continued to support the recovery efforts.
In 1999, the Tibet local government set up the Lhalu Wetland Natural Reserve Area. In July 2005, it was listed as a national reserve.
In 2002, China's Central Government allocated 90 million yuan ($13 million) for the first phase of the protection project. The second phase, which cost 50 million yuan ($7.3 million), started in early 2009 and was completed at the end of May.
The wetland is once again home to 101 species of insects and 73 species of wildlife ,including precious black-necked cranes and yellow ducks. Thousands of migratory birds arrive for a winter stay every October and leave in April.
"I've been here for 10 years. From a messy situation to a beautiful picture, I witnessed every changing step of this wetland and it is just like my child," Quzha said proudly as he stood in the middle of the protected area.
He also feels he has accomplished his mission of imparting a stronger sense of environmental protection among residents.
"In Lhasa people's hearts, Lhalu Wetland is the second most important place only after Potala Palace. They will not tolerate the wetland being damaged again," he said.
On August 16, 2009, the third Tibet Music Festival kicked off in Lhasa with the theme of "Protecting Lhalu Wetland." Fourteen Tibetan rock bands performed a song they created that called for the protection of the wetland and Tibet's environment.