The promotion of new fuels, in addition, brings direct economic benefits for farmers and herdsmen. "Every rural household can save an average of 1,000 yuan ($146.41) on fuel every year," said Zhang.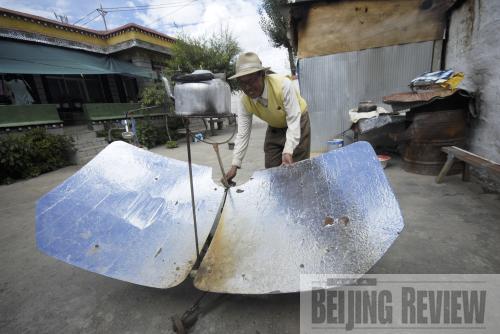 SUN HEATER: Balsang, a farmer in Lhasa, boils water with solar energy at his home (WEI YAO)
Meanwhile, the 65,000 methane-generating pits that have been built in Tibet can produce 25.03 million cubic meters of methane each year, substituting standard coal of 18,000 tons and equivalent to save forests totalling 4,200 hectares.
No to 'white pollution'
Baiyi Supermarket Labai Branch, located near the Potala Palace, is the biggest supermarket in Lhasa, with a total business area of 5,000 square meters.
Following governmental requirements, the supermarket began to provide non-woven bags to its customers free of charge beginning in 2004. Miao Yongqing, Manager of the Labai Branch, said that the supermarket provides more than 2,000 non-woven bags of various sizes every day. It also replaces the plastic rolling bags with filmed paper bags to pack loose food such as farm produce and fresh meat.
Such a ban on plastic bags is stricter than the limits on plastic bags in other parts of the country. As of June 1, 2008, the State Council banned free plastic bags in all retailing places—including supermarkets, stores and trade markets. Customers must now pay for plastic bags.
The cost of banning plastic bags, meanwhile, is also higher than that of restricted use of plastic bags.
Miao, for one, said that at his supermarket, the cost of a non-woven bag of large size is 0.48 yuan ($0.07), that of middle size is 0.38 yuan ($0.06) and small size, 0.28 yuan ($0.04), while the cost of a plastic bag of large size is less than 0.2 yuan ($0.03).
On the other hand, a filmed paper bag for packing loose food costs more than 0.2 yuan, but a piece of rolling bag only costs 0.02 yuan. "Our operating costs increased by 1 percentage point after we began providing non-woven bags to the customers," Miao told Beijing Review.
Overall, the supermarket has also abandoned selling plastic garbage bags, food bags and shoes covers, although the profit margin for these products can be as high as 20 percent.
Though earning less money by implementing the ban of plastic bags, Miao has no regret and considers it the social responsibility of the company. "The ecosystem of Tibet is really vulnerable and once damaged, it is hard to recover. So we are willing to do everything we can to protect the environment of Tibet," Miao said.
Zhang agrees. "The work of environmental protection may not increase GDP, but can retain the clean water and blue sky for Tibet," he said.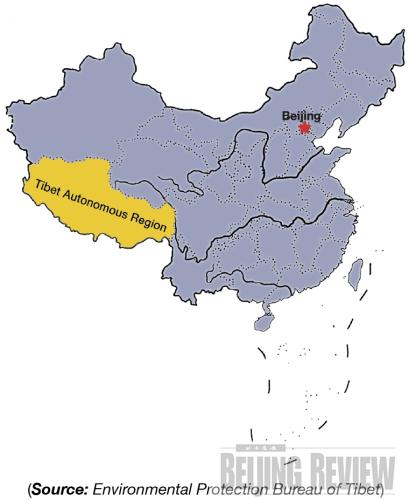 Figures on Tibet's Environment
Glacier area:
28,600 square km
Lake area:
25,000 square km,
or 30 percent of the country's
total lake area
Wetland area:
6 million hectares
Forest area:
13.9 million hectares
Natural pasture area:
820,700 square km, or 21
percent of the country's total
natural pasture area
Number of natural reserves: 45
Number of national forest parks: 7
Number of geoparks: 3
Total water resources:
448.2 billion cubic meters