The GDP of Tibet has maintained double-digit growth over 15 consecutive years, with the average annual growth rate standing at 12.8 percent. Meanwhile, the population in the region reached 2.88 million in 2008, up 130 percent from 1.23 million in 1959.
Such fast growth is unprecedented in Tibet's development history, and will inevitably impose pressure on the environment of the region. Hence, it is trying its best to balance development needs and environmental protection requirements.
Reasonable planning
Tibet is embarking on reasonable planning first and foremost—that is, defining which areas can be developed and which cannot. "Tibet delineates 34 percent of its acreage as natural reserves and bans development within these areas," Zhang said. "Such a high percentage is never seen in other localities of the country."
In terms of development patterns, Tibet gives priority to the protection of the environment and makes best use of its resources. It has energetically developed industries of local features, such as its tourist industry, traditional Tibetan medicine, green food and beverages as well as waterpower resources.
The 5100 Glacier Mineral Water produced by the Tibet Glacier Mineral Water Co. Ltd., has been exported to Hong Kong, noted Zhang, while Tibet-made barley beer has been exported to the United States.
In the meantime, Tibet has banned the development of heavy-pollution industries, including papermaking, iron and steel, chemical and thermal power. "As for industrial development," said Zhang, "Tibet will not blindly introduce projects just to fill up any industrial gap or for short-term interests."
According to figures released by the TEPB, Tibet has closed nine cement production lines in seven factories, seven small steel factories and four small papermaking mills.
Among them, five production lines in three cement factories within the city limits of Lhasa were all closed. When the autonomous region first closed a cement factory in Lhasa in 2001, the government provided a two-year interest-depreciated loan of 30 million yuan ($4.39 million) with the aim of supporting the factory to shift to other products.
Qiangba Puncog, Chairman of Tibet Autonomous Region, has repeatedly emphasized that Tibet will not develop any thermal power plants, because sulfur dioxide they produce would form acid rain, which would destroy cultural relics in Tibet.
Tibet has also adopted various measures to protect the environment while developing the tourist industry. For example, since 2004, vehicles have not been permitted to reach the base camp of Mount Qomolangma (Mount Everest), and tourists must go by carriage or foot for the last few kilometers to the base camp. Five garbage-collecting stations, additionally, have been built within the base camp area. Garbage and sewage are regularly transported out of the area.
Results of the annual investigation carried out by the TEPB show that around the base camp of Mount Qomolangma, the air is not polluted, and that the air quality is up to the highest grade of the country. Particularly, no sulfur dioxide has been detected, while nitrogen dioxide and total suspended particulates are at very low levels.
Strict administration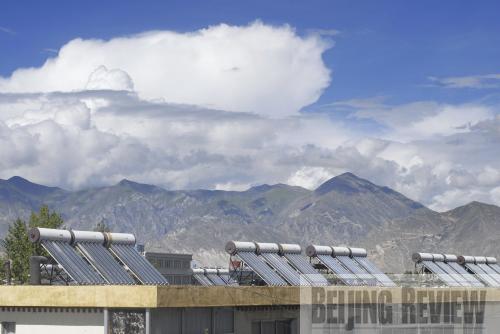 SUN SHOWER: Solar heaters are widely used in Lhasa communities (WEI YAO)

Tibet has carried out strict environmental access conditions for construction projects, and strictly administrated development and construction activities. The aim has been to prevent the transfer of projects that produce heavy pollution from other parts of the country to Tibet.

An environmental impact assessment system is strictly enforced in Tibet. Statistics released by the TEPB indicate that since 2001, the region has made more than 3,700 environmental impact assessments on construction projects. Ninety percent of the assessments have been implemented and particularly, among large and medium-sized projects, all the assessments were implemented.

From 2001 to 2008, according to Zhang, Tibet invested 6.46 billion yuan ($945.83 million) in environmental protection and construction, of which more than 1 billion yuan ($146.41 million) was used for improving urban infrastructure for environmental protection and nearly 100 million yuan ($14.64 million) was dedicated to reducing and controlling environmental pollution. In the meantime, it has strengthened monitoring on 30 key enterprises for their environmental impacts.

The region has also reconsidered its strategy in the development of the mining industry. As of January 1, 2006, Tibet banned placer mines and, as of January 1, 2008, exploration for placer iron was also banned in Tibet. "If it damages ecosystem of Tibet, even digging for gold would not be permitted," Zhang said, quoting Qiangba Puncog.

Only large mining projects are permitted in Tibet, according to Zhang, and even these are limited to minerals such as copper, lead, zinc, cadmium and iron. The region is also the first in the country to regularize environmental protection during the exploratory phases. Enterprises are mandated to devise schemes for environmental protection, and the government will supervise their implementation.

Tibet also guides enterprises in clean production and the comprehensive utilization of resources. For example, the Tibetan Traditional Medicine Pharmacy Factory received appropriations of 1.2 million yuan ($175,695) and 1.8 million yuan ($263,543) in 2005 and 2007, respectively, for its clean production project.

At present, the factory has realized zero sewage emissions, since all sewage residue is recycled to water the lawn within the factory grounds. Meanwhile, the factory has also released zero emissions of dust and noise levels during the production process, Gonggar Norbu, head of the factory, told Beijing Review.

New fuels

Balsang is a farmer living in Baiding Village of Chengguan District, Lhasa. His family used to use gas bottles for cooking. Each year, he had to pay 600 yuan ($87.85) to buy gas bottles from the urban area of Lhasa.

But last year, his township built methane-generating pits in three houses of the village for trial use and Balsang's family was one of them. Now they use methane to cook, solar energy to boil water and require just 2,000 kg of cow dung for heating in winter. Now, every year the family only spends some 200 yuan ($29.28) for their energy needs.

In Tibet, firewood and cow dung used to be the most important fuels for people in agricultural and pastoral areas. But a massive use of firewood may lead to lumber cutting in a destructive manner, thus leading to pasture degradation.

For factors of low oxygen content in Tibet and the simple stoves, the utilization efficiency of firewood is low—not only wasting resources, but also influencing quality of life.

Now Tibet is vigorously promoting substitution of traditional fuels in the agricultural and pastoral areas. According to TEPB figures, 155,700 methane-generating pits are being planned for 51 counties in the region, promising to provide methane for 778,000 farmers and herdsmen.

In the meantime, use of solar cookers and solar heaters are actively encouraged in Tibet, and the region now has a total installed capacity of 9,000 kw for photovoltaic power plants using solar energy.