EVER BEAUTIFUL: Potala Palace sits at the heart of beautiful Lhasa (WEI YAO) 
Tourists from elsewhere in China may happily find that when they shop at supermarkets, drug stores or department stores in Tibet, their purchases are given in non-woven bags, free of charge.
Shoppers in other parts of the country, however, must pay for plastic bags. Beginning in 2004, Lhasa banned the production, sale and use of disposable plastic bags and foamed plastic dishware—and, as of 2008, expanded the ban to all of Tibet. By contrast, all of China only implemented a ban on the free use of disposable plastic bags beginning in 2008.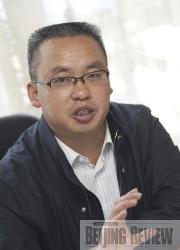 FOR A PURE TIBET: Zhang Yongze, Director of the Environmental Protection Bureau of Tibet Auto-nomous Region, has devoted more than 10 years to environmental protection in the region 

The restriction on plastic bags is just one of the many examples that reflect Tibet's efforts to safeguard the environment. Covering 1.22 million square km, Tibet is the second largest provincial-level locality in China, accounting for one eighth of China's total land mass. Several famous Asian rivers, including the Ganges, Indus and Yangtze rivers, all originate in Tibet.

Tibet is the main part of the Qinghai-Tibet Plateau, and 92 percent of the region's land lies 4,000 meters above sea level. The environment of Tibet is highly vulnerable and rather difficult to recover once being subjected to interference.

Since the industrialization and urbanization levels in Tibet are low and most of the pollution emanates from daily life, pollution control is not as arduous a task as in other parts of China.

"The major difficulty for environmental protection in Tibet comes from the pressure brought by rapid economic development," Zhang Yongze, Director of the Environmental Protection Bureau of Tibet Autonomous Region (TEPB), told Beijing Review.

Tibet, said Zhang, is less developed than other provinces, municipalities and autonomous regions of China, but must achieve a better quality of life. "The demand for development is urgent, imposing great pressure on environmental protection," Zhang added.

 
NO PLASTICS: Customers use non-woven bags at Baiyi Supermarket in Lhasa. In Tibet, no plastic bags are allowed at retail stores (WEI YAO)
Following the Democratic Reform in 1959, Tibet has experienced an ever-faster growth in economy and population. According to figures from the Development and Reform Commission of Tibet Autonomous Region, in 1959, its gross domestic product (GDP) was only 174 million yuan ($25.48 million) while, by 2008, that figure had increased to 39.59 billion yuan ($5.8 billion).