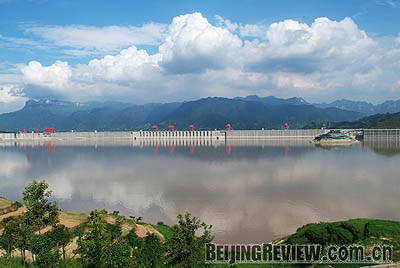 HYDROPOWER HOTBED: Through decades of vigorous efforts, China has risen to become the global center of hydropower technology
China's economic takeoff over the past decade has produced some unintended consequences, namely environmental pollution and dire power shortages. Many cities have even experienced power blackouts in the past few years.
According to a report released by the China Electricity Council on August 7, power shortages during the second half of this year could amount to 15 million kw. For that reason alone, the country's push into some other clean energy alternatives in recent years has been a welcomed move. Hydropower in particular has proved to be a viable energy source.
The Three Gorges Hydropower Station on the Yangtze River, the largest of its kind in the world, is a remarkable demonstration of how far the country has gone in this sector. The station, outfitted with 32 generating units each with an installed capacity of 700,000 kw, impresses with an eye-popping total installed capacity of around 5.5 times that of the Longtan Hydropower Station in Guangxi. With one year still to go until completion, the Three Gorges Station has set several world records in hydropower technology.
Adding luster to the country's ascendancy in the sector is the Xiluodu Hydropower Station in Yunnan Province, to be finished by 2015. Its total installed capacity is set to reach 12.6 million kw, equaling Brazil's Itaipu Hydropower Station, the second largest in the world.
Chen Lei, Minister of Water Resources, recently told the International High-Level Forum on Water Resources and Hydropower held in Beijing that China boasts a total installed hydropower capacity of 145 million, coming first in the world. But being top dog will not bring an end to the country's hydroelectric endeavors. With an array of stations coming into operation in a few years, the record is soon to be scraped.
Nearing a peak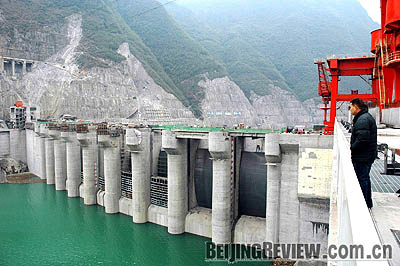 CLEAN ENDEAVOR: For the last decade China has focused on developing clean energy resources, especially hydropower
It will not take China much time for the effects of its hydropower dedication to work through, given that many of its large hydropower stations will hit their peak output between 2012 and 2016. Most are stationed along the middle and upper reaches of Yangtze and Yellow rivers, as well as the southwestern Jinsha, Yalong and Dadu rivers, according to a report of the Ministry of Water Resources.
The Water Power Research Group under the Chinese Academy of Engineering said China plans to build more than 110 large hydropower stations each with an installed capacity of over 1 million kw. To date, 20 of them have been completed and put into operation. The remainder, with a combined installed capacity of 198.67 million kw, will largely be completed between 2010 and 2015.