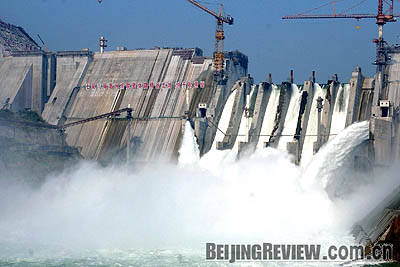 LET IT FLOW: The Longtan Hydropower Station opens a sluice to release floodwater. The station's flood-control operations will reduce economic losses caused by floods in the Hongshuihe valley
In southwest China, there is a river called Hongshuihe, which originates in Yunnan Province, passes through Guizhou and Guangxi and finally flows into the Pacific Ocean via the Pearl River. Because the 638-km river passes through mountains and gorges with steep slopes and drops 762 meters in elevation, it is an abundant source of hydropower. In Tian'e County, Guangxi Zhuang Autonomous Region, where the Hongshuihe River passes, a rolled concrete dam of 216.5 meters high holds back the river water. This is Longtan Hydropower Station, the third largest of its kind in China.
Longtan Hydropower Development Co. Ltd. (LHDC) has completed the installation of major parts for testing at the station's No.6 unit, which is expected to go into production by the end of November. Meanwhile the company has started installing parts at the station's No.7 unit, expected to be operational by the end of December.
The company has invested a total of 24.3 billion yuan ($3.56 billion) in building the Longtan Hydropower Station since July 1, 2001, to install seven units. It began to dam the river in November 2003, and the first unit began to generate electricity in May 2007. The entire nine-year project is scheduled for completion by December 2009.
The installment of the No.7 unit means that the overall completion of the Longtan Hydropower Station will be one year ahead of schedule.
Huge economic benefits
According to the construction plan, more than 50 percent of the electricity generated by the Longtan Hydropower Station will be transmitted to Guangdong, which will greatly alleviate the province's electricity shortages.
Since the reform and opening-up policy was launched three decades ago, Guangdong has been one of the engines of China's booming economy and has developed very rapidly. But its fast economic development has boosted its demand for electricity, resulting in electricity shortages and blackouts.