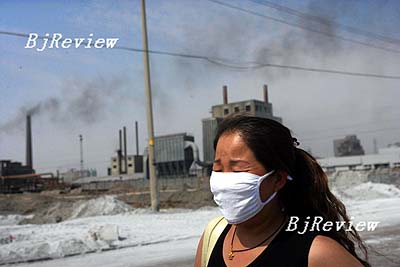 After two years of debate China remains undecided over a bill that would regulate the power of government, but it does remain alive and kicking, and a step closer to becoming law.
Differences of opinion over the groundbreaking Administrative Mandatory Law have so far stifled and almost strangled it. According to China's Legislation Law, if deliberations on a bill before the Standing Committee of China's National People's Congress (NPC), the country's top legislature, are suspended for two years or longer and the bill has not been placed anew on the Standing Committee agenda, the bill is terminated. That almost happened to the Administrative Mandatory Law, but on October 24 it was saved when the latest draft of it was submitted to the Standing Committee of NPC for a second reading.
"It is a pity that it has taken almost two years between the first reading and the second reading of the bill considering the law's essential role in pushing the transformation of government to a service-oriented one," said Ying Songnian, a professor of law of China National School of Administration, who has participated in the drafting process and two readings.
Yang Jianshun, a professor in the Law School of Renmin University of China, is pessimistic about the law's second reading. He believes that legal experts remain divergent on some coercive measures, such as restrictions on personal freedom and intrusions into private residences by force, and further debate is needed.
Abuse of power
Legal experts have accused local governments across China of exploiting legal loopholes. They say that administrative agencies have issued regulations to design mandatory sanctions under the name of enhancing efficiency. These regulations, issued by different government departments, usually fail to outline specific procedures, leaving room for the abuse of power by administrative organizations. Meanwhile, it is difficult for the victims of these abuses of power to win compensation.
Professor Ying said the Administrative Mandatory Law is essentially a law to regulate administrative power by outlining limits on government power and what kind of procedures should be adopted to deal with different situations. He said the abuse of administrative mandatory sanctions remains widespread. For example, some local governments use coercive measures in land requisition cases against residents that refuse relocation arrangements, often leading to conflict; and environmental protection agencies fail to impose mandatory sanctions on factories that pollute the environment. China urgently needs the Administrative Mandatory Law, according to Ying.
Legal experts, including Professor Ying, believe that the new law could create an awkward situation regarding government power. While power is abused in some cases, infringing on the legal interests of individuals or organizations, it is too weak in other cases, enabling illegal acts to go on without forceful intervention from the government.
Biggest barrier
China began drafting of the Administrative Mandatory Law as early as March 1999 and a preliminary draft came out in 2002, which was open to suggestions from the public. When the draft law was submitted to the NPC Standing Committee for deliberation in December 2005, legal experts optimistically estimated that the draft would become law soon.
Law Professor Jiang Ming'an of Peking University attributed delays in adopting the law to differing opinions on the legislation within it. Areas of debate on the law have fallen into three categories: whether China needs such a law now; whether administrative compulsory measures should be regulated by a law promulgated by the NPC, regulations issued by government or by local people's congresses; and who between administrative organs and the courts has the authority to implement administrative compulsory measures.
Ma Huaide, a professor at China University of Political Science and Law, said one of the strongest voices against hurriedly passing the Administrative Mandatory Law comes from government agencies that are afraid of losing power.
Members of some administrative organs, such as law enforcement officers of city administration and market supervision, are concerned that the law could weaken their powers and limit their ability to do their jobs efficiently. Many of them support the drafting of laws and regulations to avoid the abuse of administrative powers but oppose strict rules that could handicap administrative organs.
The concerns raised by administrative organs have received some support from the public. Professor Ying, who supports a quick passing of the law, admitted that some administrative compulsory measures contained within the draft law could be a double-edged sword, either raising administrative efficiency or hindering the interests of ordinary people.