Star Driver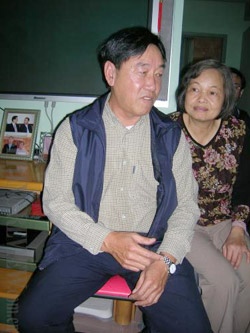 Chieng Peng Kuan and his wife (LI LI)
Chieng Peng Kuan, a 59-year-old tour bus driver, became an overnight celebrity five years ago after his family was visited by Chinese President Hu Jintao, who came to Macao to preside over fifth anniversary celebrations for the region's official return to China on December 20, 1999.
"The president stayed at my home for 18 minutes," recalled Chieng, who sat in his two-bedroom apartment in the old city quarter. "We have no clue why an ordinary family like mine was chosen to host the president."
Chieng said others who saw photos in local newspapers of his family with Hu recognized them walking down the street over the next few days.
Chieng, Deputy Director of Macao's transport industry workers' union, said his suggestions to the government were ignored when the region was Portugal's colony. He said the new Special Administrative Region (SAR) Government that took over 10 years ago when Macao was returned to its motherland has adopted his suggestions of widening the roads and building more parking lots, making his job of driving a 12-meter-long bus much easier.
Chieng has witnessed a noticeable decrease in the number of violent crimes in the gaming city. "Ten years ago, we dared not go out after 10 p.m. and often heard shootings at night. Now we feel safe in the street any time of day," he said.
He also noticed the opening of many new casinos and worsening traffic jams in the city in recent years.
"There are too many motorcycles on the road," he said.
Although he has reduced the number of hours he works compared to 10 years ago, his monthly salary of MOP6,000 ($750) has remained the same. His 59-year-old wife, who works in a textile factory, earns MOP4,000 ($500) a month, half of which is comprised of low-income subsidies from the SAR Government. The couple has no financial concern about their upcoming retirement, despite the fact that they have not been able to save much. They are confident in Macao's social insurance network and a new government program to open a retirement account for each permanent resident 22 years and older.
They worry that younger generations will not be able to buy their own housing because property prices have been skyrocketing over the last few years. Their 27-year-old son, a civil servant for the Macao SAR Government, will have to continue living with them even after he gets married at the end of December this year. The civil service is usually considered a good career with above-average salaries in Macao.
"Housing is too expensive now. Even for a couple who both work at casinos in well-paid jobs, buying an apartment is not easy," Chieng's wife said.
However society changes, the couple said they wouldn't change their attitude about life. "We worked really hard to support our children, sent them to universities and paid our mortgage. Whatever changes, we will continue to work hard," said Chieng's wife.
Nationality Switching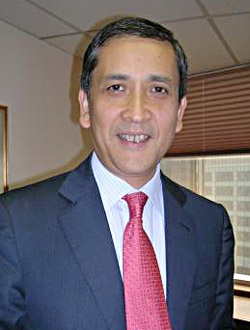 Leonel Alberto Alves (LI LI)
Leonel Alberto Alves is a Macanese, a Macao native with some paternal Portuguese ancestry, who was born in the region in 1957.
After the Portuguese settled in Macao in the 16th century, many of that country's men who were stationed in Macao as part of their military service stayed and married Portuguese-speaking Chinese women. This ethnic group, which includes 10,000 to 20,000 today, has created its own distinctive cuisine, home decoration style and language by mixing the Portuguese and Chinese cultures.
Alves, who had a Portuguese grandfather, a Chinese grandmother and a Chinese mother, is a fluent speaker of Portuguese and Cantonese. He attended a Portuguese-speaking primary school and middle school in Macao and went to Lisbon in 1974 to study at the University of Lisbon's Law School for six years. He worked in Portugal for two years after graduating and then came back to Macao, where he immediately started to practice law. He has been a member of the Legislative Assembly of the Macao SAR since 1984.