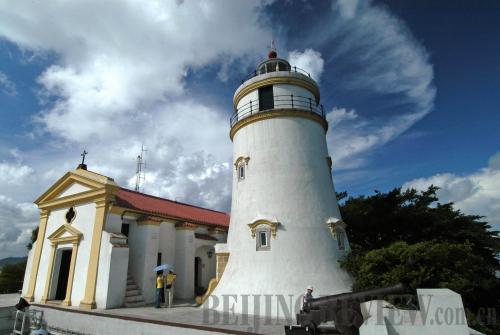 HISTORY'S FOOTPRINT: The Guia Fortress is a landmark building in the Historic Center (XIN HUA) 
Macao, a tiny place less than 2.5 percent the size of Hong Kong, doesn't even have its own textbooks for primary and middle school students. The former Portuguese colony has instead for decades used textbooks compiled in Hong Kong.
"Students educated in this way know everything about Hong Kong—even its city flower—but don't know much of Macao's history and geography," Ho Lai Chun, Director of the Cultural Affairs Office of the Macao Special Administrative Region (SAR) Government, told Beijing Review.
Now, through a series of measures involving cultural heritage protection and improved communications and exchanges with cities on the mainland, Macao has endeavored to help its citizens rediscover their cultural identity and enrich their cultural life in the 10 years since its return to the motherland.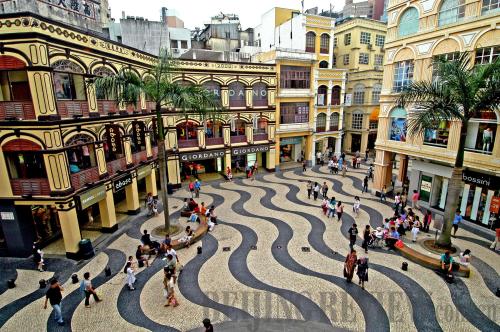 RETAIL THERAPY: The Largo do S. Domingos in the Historic Center is a favorite shopping area XINHUA

Macao's efforts in protecting its historic center have been recognized as one of the Macao SAR Government's "most successful" endeavors during the past decade, according to research conducted in August by the Macao Inter-University Institute and the Macao Business magazine. Further endeavors on the list include promoting the region's economy, developing its tourism, opening the gambling industry to foreign investors, improving the people's livelihoods and ensuring the region's stability and security.

Macao's citizens are increasingly confident in the region's future and have been the happiest since it returned to China 10 years ago, according to the report, the eighth telephone poll of its kind on the region's standard of living. While Macao's personal well-being index (PWI) increased 1.2 percent to hit a record high in the third quarter of this year, one third of its population said they thought they were both Macanese and Chinese.

"These tangible and intangible cultural heritages are an indispensable part of local residents' life. Unaware of their existence, they have been living within or with them for centuries," said Ho.

"Churches and temples are part of local citizens' daily lives, and these functions are basically unchanged," said Ho. "That explains why few realize they are living alongside a wealth of cultural heritage."

She gave the Lou Kau Mansion as an example, a typical Chinese courtyard-house compound. The Macao SAR Government took over the mansion for renovation and maintenance in 2002. When it was opened to the public, many citizens in the neighborhood said they had never before noticed such a nice building.

Ho also attributed the achievement made to close exchanges between Macao and the mainland. For example, experts on Lingnan architecture, a style widespread in south China's Guangxi Zhuang Autonomous Region and Guangdong Province, and Cantonese Opera paid visits to Macao and offered their support for protection and preservation work, she said.

"Work involving cultural heritage protection and applications has greatly increased the local residents' sense of cultural relic protection."

This was, she said, the best result she and her colleagues had attained in the past 10 years.