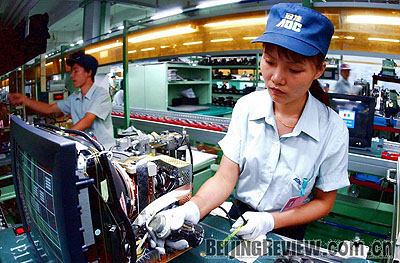 BUSY ASSEMBLY LINE: Top Victory workers assemble computer monitors at the company's factory in Fujian Province
For many product manufacturers in China the global financial turmoil has had disastrous effects and thrown a large number of companies into bankruptcy. But for Top Victory Electronics (Fujian) Co. Ltd. (Top Victory), the crisis has been something of a boon, bringing the computer monitor and television manufacturer more orders from foreign and domestic customers.
Top Victory's parent company-Taiwan-based TPV Group-has been the biggest monitor maker in the world since 2005. The company specializes in the design and production of desktop monitors and LCD televisions and is mainly engaged in the original design manufacturing (ODM) business. ODM manufacturers make products or components from their own designs and then sell them under the brand names of original equipment manufacturers (OEM). The company provides monitors to a wide range of reputed industrial giants, including Dell Inc., Royal Philips Electronics NV, LG Electronics Inc. and NEC Electronics Corp., and produces its own brands "AOC" and "Envision."
No major damage
When asked whether the current global economic crisis would negatively affect the company's business, Top Victory managers at a factory in Fuqing, Fujian Province said they were optimistic and confident that it would not. The company's production is going smoothly, and managers expect its total revenue growth to exceed 7 percent this year to reach about 36 billion yuan ($5.3 billion), said Qiu Xiulin, a senior manager in the company's production department. Top Victory had a total revenue of 33.5 billion yuan ($5 billion) last year. In the first 10 months this year, the company's sales totaled about 31.5 billion yuan ($4.6 billion), he said.
"It is no doubt that our revenue this year will exceed that of the last year," Qiu said. Currently, Top Victory brands and its ODM products occupy about half of the domestic market and 30 percent of international market.
Against the backdrop of the global financial crisis and a foreseen global economic recession, it came as a surprise that the company's business has continued full steam ahead.
"The secret is that some of our competitors which also provide monitors to our clients such as Dell have been forced to close down due to rising costs and difficulties in financing during the financial crisis."