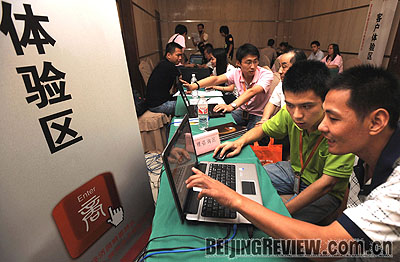 Pressures are mounting on Alibaba.com, the country's top e-business site, amid worries that small and medium-sized exporters-its main clients-will be affected by a slowing economy
With its stock prices in a freefall and its domestic rivals aggressively gobbling up market share, Alibaba.com Ltd., the country's top e-commerce firm, is facing some tough times.
When the Hangzhou-based company debuted in Hong Kong in a $1.49-billion IPO last November-before all the bad news about Wall Street had hit home in Asia--its share price promptly tripled to HK$39.50 on its first day of trading.
How times have changed. Since then, Alibaba's shares have nose-dived by a staggering 90 percent, hitting an all-time low of HK$ 3.90 a share on October 28 amid concerns about the growth of its premium membership as the U.S. economic washout continues to effect more countries around the world.
The company, founded in 1999, has enjoyed spectacular growth by serving tens of thousands of small and medium-sized exporters and importers in China with its online business-to-business site. But as the exporters feel the pain of a stronger yuan and growing costs in recent years, their demands for e-commerce have declined to a trickle. Worse still, fears of a global economic recession have cast a pall over China's e-commerce industry.
Huang Wenge, a senior IT analyst at China Essence Securities Co. Ltd., told Beijing Review that investors' dim prospects for Alibaba are mainly due to worries over its faltering customer growth in a slowing global economy.
"Those who are suffering most nowadays are small and medium-sized exporters, who are Alibaba's main customers," Huang said.
According to the company's mid-year financial report, the number of Alibaba's paying members grew by an annual 10 percent in the first half of 2008, a precipitous drop from the 44.5-percent and 39-percent growth rates in 2006 and 2007, respectively. The big increase in Alibaba's number of premium members, whose payments account for around half of the company's total revenue, also has fizzled, according to the report.
Even Jack Ma Yun, Alibaba's Chief Executive Officer, has foreseen a "winter chill" period for the country's e-business.
"We're prepared for the winter, so we have reserved a lot of cash," Ma said in a report to his staff in July.
But is Alibaba really well prepared for the bleak season? If not, it is not for lack of trying. On September 4, the company's parent, Alibaba Group, which is 39-percent owned by Yahoo Inc., said it was combining the operations of its two fastest-growing units-Alimama.com, an online advertising service, and Taobao, an auction site-to achieve further synergies. The combination of the two free-of-charge services would attract more merchants and give consumers more choices, the company said in a statement. The announcement came after several international investment banks downgraded Alibaba's shares as global woes forced small and medium-sized firms to cut their spending. Prior to that, its Yahoo China unit, a search engine and lifestyle portal, was merged into its Koubei.com, one of the country's largest classified listing and community websites.
Meanwhile, Alibaba had attempted to assuage investors' fears about its future, noting that it saw growth opportunities in its online marketplaces as suppliers and buyers searched further for more alternatives in case a U.S. slowdown negatively impacted their existing business partners.
Han Wei, an Alibaba spokesman, told Beijing Review that the financial crisis presented an opportunity for the company, because more traders preferred doing business online to cut their costs in difficult times.
"Moreover, efficient and low-cost e-commerce could add fuel to the product and technology innovation for labor-intensive exporters," he said.
Han also dismissed rumors that the company would shed jobs, noting that it was instead launching a massive recruitment campaign for further expansion.
But some industry analysts who follow the company interpreted Han's comments as an attempt to batten down the hatches before any storms hit. Huang said the current staff expansion could do little to take downward pressure off the company because Alibaba's business model has shown some cracks.
After years of torrid growth, Alibaba saw the number of its total paying members hit 36,800 by the end of June, significantly diluting the exposure that suppliers could get on the site. Suppliers have far outnumbered buyers on the site, leading to a price-cutting game that eats into suppliers' margins.
"The high membership fees of Alibaba have also become affordable for many small and medium-sized exporters that are taking blows from the overseas economic downturns," Huang said.
As a result, many suppliers have switched to cheaper and more efficient online marketing models, such as the emerging e-commerce site Netsun.com and the bidding rank offered by search engine Baidu.com.
Baidu raked in a total of 570 million yuan ($83.4 million) in fees from its members-small and medium-sized enterprises-in the first quarter of this year while Alibaba got only 200 million yuan ($29.3 million), according to the companies' quarterly financial reports. Baidu recently announced plans to launch a consumer-to-consumer service next year, a move expected to challenge Alibaba's dominance in consumer-to-consumer e-commerce.
"Of course, Alibaba would take some heart from the country's stimulation efforts to the export sector, such as higher rebate rates and lower taxes," said Huang. "The company may focus more on domestic businesses and is likely to cut its membership fees in the near future to polish its appeal to clients."