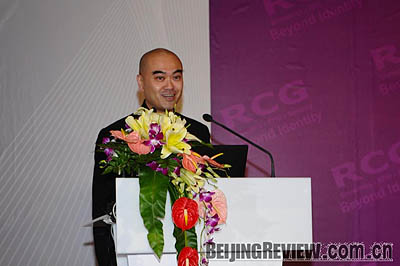 HI-TECH SOLUTION: Raymond Chu, Chairman and CEO of RCG Holdings Ltd., believes his company's cooperation with local medical information software developer Tianjian Tech Group Ltd. will benefit both partners and the Chinese healthcare industry as a whole (COURTESY OF RCG)
New mothers in China can look forward to more peaceful hospital stays without worries that their precious newborns might be swapped or kidnapped from the maternity ward. Some hospitals in China plan to start placing special tags with radio-frequency identification (RFID) technology around the ankles of newborns to let hospital staff track the infants' real-time location and record the identities of every nurse that comes into contact with them.
RCG Holdings Ltd., an international provider of biometric and RFID solutions and services listed on the London Stock Exchange, develops the tags, which are also used in the maternity ward at the Sri Kota Medical Center, a private hospital in Malaysia.
With a primary focus on the Asia-Pacific markets, RCG intends to sell the tags to hospitals on the Chinese mainland through its partnership with the Beijing-based Tianjian Tech Group Ltd., a developer of medical information software and integrator of healthcare solution systems.
Under the partnership, Tianjian Tech Group will focus on healthcare automation-related development, while RCG will provide support for market intelligence and implement projects backed up by its strengths in machine-to-machine (M2M) technology, RFID and biometric applications.
"Our collaboration with Tianjian reflects our commitment to the healthcare industry in China," said Raymond Chu, CEO and Chairman of RCG, at the China Healthcare IT Summit in Beijing on September 23. "We strongly believe that the implementation of biometric, RFID, wireless and M2M technologies will bring enormous benefits to the industry, and as a result of this we are confident that RCG will benefit from this increased demand for IT solutions in the healthcare industry."
RCG showcased its new product offerings at the summit. They included an integrated medical system and individual customized modules, including a hospital information system for managing medical and patient data, a tracking and location system for organizing assets, ambulances and individuals, a mobile clinical assistant system for remote diagnosis, and an identity authentication platform for securing highly sensitive data.
More than 150 professionals and decision makers from the healthcare and IT industries attended the summit to discuss how to improve operational efficiency by applying IT solutions to the healthcare industry. They all are looking to grab a piece of China's lucrative healthcare IT solutions market. CMP Consulting Services Inc., a computer programming service company based in Miami, Florida., has forecast that the market here is valued at 2.8 billion yuan ($412 million), representing a compounded annual growth rate of 28 percent during the period of 2008-12.
"It remains a great challenge for Chinese hospitals to make full use of information technologies to enhance their management efficiency and better serve the patients," said Fu Zheng, Vice Chairman of China Health Information Association, at the summit.
Deng Xiaohong, Deputy Director of the Beijing Health Bureau, said 97 percent of the top level-three hospitals in Beijing have installed a basic data management system for patient check-in and registration, payments, drug dispensing and patient transfers. China's hospitals are divided into three tiers based on the quality of their service, with level-three institutions providing the highest quality.
But the problem is that hospitals usually cannot share information because they have different IT systems due to a lack of a unified application standard in the industry, Deng said. Furthermore, the levels of IT applications in hospitals nationwide vary largely, because the institutions have different opinions about to what extent IT solutions can improve their efficiency and services, he said.
IT solutions can minimize human errors and improve the quality of management through the integration of RFID, biometric and wireless technologies, said Lai Sau Shue, President of RCG's M2M Business, at the summit. For example, remote diagnosis becomes possible through M2M technology, he said. In cases where someone suffers a heart attack, a RFID tag will allow doctors to find the patient's identity and medical records through wireless tools and conduct a timely remote diagnosis. Lai said 84 million Chinese suffer from heart problems, and more than 7,000 of them die every day, of which more than 70 percent died because they lacked access to timely and effective treatment.
Wuxi People's Hospital in Jiangsu Province, for example, has become a flagship public hospital in applying IT solutions to all aspects of its medical care for precise, standard and real-time process management with high efficiency and security, said Ji Jianwei, the hospital's director. The IT system is human-oriented, much more convenient for patients, nurses and doctors to use, and it increases the interaction between the hospital and patients in surrounding communities, he said.