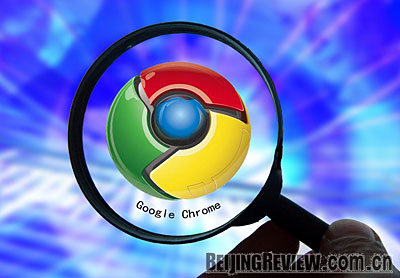 MARKET PRESENCE: Google launched its open source Internet browser, Chrome, on September 2 to challenge Microsoft's dominance of the browser market (CFP)
Google Inc. formally introduced its new open source web browser called Chrome on September 2 as a challenge to Microsoft Corp.'s dominance of the browser landscape. The company's Internet Explorer has acquired 80 percent of the browser market since it defeated Netscape Navigator in the late 1990s.
The pre-release version of Google Chrome now is available in more than 100 countries. It was initially designed for Windows users and will be tailored to integrate more platforms such as Mac and Linux operating systems in the future.
The unveiling of Google Chrome leaked out when a comic book detailing its features became a hot search term on the Internet a day before its formal debut. The book turned out to be a very effective and entertaining way of explaining its functions and architecture, while rousing further interest. As explained in the book, the browser will help Google take advantage of new developments it is pushing online with rich web applications that are challenging traditional offline desktop programs.
Why Chrome?
The debut of Google's Chrome answers a 16-month mystery: Why did Google buy GreenBorder Technologies Inc.?
When Google acquired California-based GreenBorder in May 2007, it sparked curiosity among tech experts and analysts as to how the search engine giant might integrate the company's security solutions into its own services. The answer was that GreenBorder's sandbox technology would make Chrome more secure.
Google started designing its own browser in the spring of 2006 when a team of engineers who had worked for rival company Mozilla Inc. considered developing a platform of the Cloud age, according to an article in Wired magazine. Cloud computing in essence refers to software hosted on the server instead of on the desktop and will allow Google's model and network of data centers around the globe to integrate web applications.
"What we really needed was not just a browser, but also a modern platform for web pages and applications, and that's what we set out to build," Sundar Pichai, Google's Vice President of Product Management, wrote on the company's official blog.
Google said its development was based on many open source projects, and Mozilla Inc.'s Firefox in particular. The search giant itself is committed to making all of its code open source as well.
"We believed the browser of the future should be open source, because it's too important to be dominated by one company," Google China's President Kia-fu Lee said in an interview with Sina.com.
"The web gets better with more options and innovation," Pichai said in the blog. "Google Chrome is another option."
Some other technology experts agree about the importance of browser technology.
"The web browser is very important as a gateway to Internet and online services," Hong Bo, a Beijing-based technology expert, wrote in his blog. "It's probably the most often used software for personal computer users worldwide."
But the real reason for Google to own a browser, Hong said, was to "have a say in setting new standards for web technologies" and "offer an example for their standards." The ideal standard for Google is that "web applications can run perfectly whatever the platform or the terminal," he said.
Feedback
John Lilly, CEO of Mozilla, which has about 20 percent of the browser market, welcomed his new rival and said his company would continue to work with Google on technical collaborations for certain projects.
"Chrome is inevitable," Lilly wrote in his blog, adding that Google is a web business company and the presence of another browser on the market could only stimulate competition and improve the quality of products available to Internet users.
"They've got clear opinions on how things should be," Lilly said on September 2. "Chrome will be a browser optimized for the things [Google] sees as important."
In response, Dean Hachamovitch, General Manager of Microsoft's Internet Explorer, issued a statement on the day Chrome debuted, saying that he welcomed the competition and expressed confidence that people would choose Internet Explorer 8. Microsoft's browser still could win users because of "the way it puts the services they want right at their fingertips, respects their personal choices about how they want to browse and, more than any other browsing technology, puts them in control of their personal data online," he said.
PC World magazine published a list of several reasons why Internet users would like or dislike Chrome. It said they would like Chrome because the browser would not crash, would run faster, have a "streamlined" design, make searching simpler, and allow users to grab a tab and drag it out into its own individual window. Two other features that would appeal to users would be the default dynamic homepage and an incognito mode for browsing privacy. The default dynamic homepage lets the browser remember websites visited and displays on the homepage snapshots of the top nine websites that a user visited most often. Chrome allows users to create an "incognito" window so that nothing that they access within that window will be recorded on their computers.
Wired said Internet users might not like Chrome because it is the first test case for Chrome, still contains bugs and is somewhat risky, has no add-on applications, and uses standards different from the prevailing ones of Firefox and Internet Explorer.