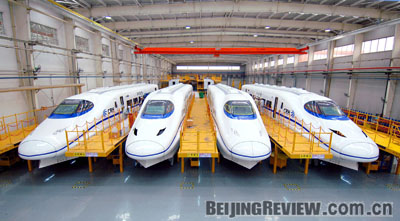 POISED FOR SUCCESS: China South Locomotive & Rolling Stock Corp., the country's largest train maker, is a leader in the multiple-unit and urban rail train business
China's largest train maker debuted on Shanghai and Hong Kong stock exchanges in August-the country's first domestic initial public offering (IPO) in the second half of the year.
China South Locomotive & Rolling Stock Corp. Ltd. (CSR) raised $1.5 billion during IPOs on the Shanghai exchange on August 18 and the Hong Kong exchange on August 21.
CSR's dual listing drew wide media coverage in part because the company is China's largest manufacturer of rail transportation equipment and the only major competitor of China North Locomotive and Rolling Stock Industry (Group) Corp., the other domestic rail equipment giant.
"CSR enjoys comparative advantages with a market share of more than 55 percent in the emerging multiple-unit train and urban rail train business, though in the traditional locomotive, passenger car and truck business the company has a market share of 50 percent," Li Chao, an analyst at China Jianyin Investment Securities Co. Ltd. wrote in a company report.
CSR's dual listing also was significant because it came at a time when mainland stock markets have had bearish performances along with other global stock markets, and China's IPOs (initial public offering) have slowed to a trickle. IPOs in the A-share market in the first half of 2008 raised less than 70 percent of the amount they did during the same period last year. Of this year's IPOs, only four issued more than 100 million shares and raised a total of 64.32 billion yuan ($9.46 billion). The number of IPOs and the amount of funds they raised decreased by 64 percent and 49 percent, respectively, year on year.
Riding high
CSR expects a hefty boost in revenue as the government invests more money in railway transportation infrastructure construction over the next decade to meet the growing demands for urban rail transportation facilities. According to the government's 11th Five-Year Plan for the country's economic development between 2006 and 2010, the investment budget for railway infrastructure construction will reach 1.25 trillion yuan ($183.8 billion). Li said he expects the government to spend 240 billion yuan ($35.3 billion) on railway vehicle purchases from 2008 to 2010.
According to CSR's last annual report, the company had revenue of 27.4 billion yuan ($4 billion). The value of its orders as of mid-July this year had already exceeded 80 billion yuan ($11.76 billion).
Despite the bearing stock market, investors have put faith in CSR's listing. Unlike other large dual offerings, CSR first issued 3 billion A-share stocks at 2.18 yuan ($0.32) per share to raise 6.54 billion yuan ($962 million). Three days later it issued 1.6 billion shares at HK$2.6 ($0.33) per share on the Hong Kong exchange to raise HK$4.16 billion ($528 million).
The dual listing would help CSR to reduce its liability-asset ratio from 80 percent at the end of March to 60 percent, said Zhao Renqiang, CSR's Secretary of the Board, in a Xinhua News Agency report.
CSR said 559 institution investors participated in the subscription of the off-line share allotment worth a total of 357.1 billion yuan ($52.5 billion). Individual investors also poured 2.26 trillion yuan ($332.35 billion) into the company's shares, with 1.9 trillion yuan ($279.4 billion) from online subscriptions for the offerings.
CSR's successful IPO not only reflects the promising future of the industry, but also its comparatively low price-to-earnings (P/E) ratio, said Zhang Haidong, an analyst at Bohai Securities Co. Ltd. CSR had an IPO P/E ratio of 18.59 based on the diluted earnings per share of all its shares in the A-share and H-share markets, making it "very tempting for investors," he said.
Data from the Shanghai Stock Exchange show that some of the 21 large IPOs that have issued more than 200 million shares since early 2007 have had P/E ratios that are considerably higher than CSR's. Their average IPO P/E ratio was 37.699. Of these companies, China COSCO Holding Co. Ltd. had the highest P/E ratio of 98.67. Ping An Insurance (Group) Co. of China Ltd. had the second highest at 76.18. Jinduicheng Molybdenum Co. Ltd. and Chongqing Iron & Steel Co. Ltd. had comparatively low IPO P/E ratios of 17.47 and 20.28, respectively.
CSR's shares also had a fairly good performance in their first week of trading. On the first trading day, they closed at 3.45 yuan ($0.51), an increase of 58.26 percent. This was much higher than the average growth rate of stocks listed this year in Shanghai, or 47.85 percent, on the first day of trading.