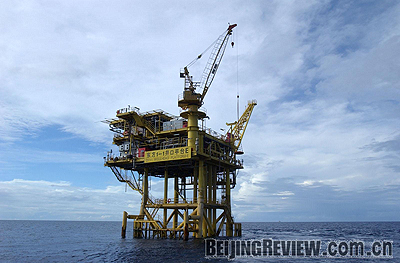 Unlike China's other big oil companies that have suffered major losses in their refining businesses, China National Offshore Oil Corp. (CNOOC) is happily in the black.
The company disclosed on its website on July 21 that its consolidated net profit was 18.95 billion yuan ($2.77 billion) in the first half of 2008, an increase of 35.2 percent compared with the same period last year. It ranks third among all the 149 central state-owned enterprises (SOEs) in terms of profit, accounting for 9.3 percent of the total.
As one of the three oil giants and the largest offshore oil and gas producer in China, CNOOC is mainly engaged in working with foreign partners in oil and gas exploitation in China's offshore area. For a long while, deep-sea oil exploration has enabled CNOOC to make continuous profits. According to company figures, its total assets surpassed 300 billion yuan ($43.92 billion) in 2007.
CNOOC's two main competitors, China National Petroleum Corp. (CNPC) and China Petrochemical Corp. (Sinopec Group), fell on hard times in the first half of 2008. CNPC said its pre-tax profit dropped 39 percent to 56.4 billion yuan ($8.26 billion) during the first six months of this year, compared with the same period in 2007. Sinopec Group estimated its net profit would decrease by more than 50 percent in the first half over a year ago. CNOOC managed to outshine its rivals because its refining business constitutes a small part of its overall operations.
Chinese refiners are increasingly falling victim to rising international oil prices that hit a record high of $147.27 per barrel on July 11. In light of this, they have seen their profits plunge because of their heavy reliance on imported crude oil.
Although the state has given the refiners large subsidies and raised refined oil prices by a small margin, CNPC and Sinopec Group still lost 5.71 billion yuan ($836.02 million) in the first half this year, according to the China Petroleum and Chemical Industry Association. The losses were 47.9 percent more than the amount sustained by the companies during the same period last year. Although the National Development and Reform Commission raised the price of refined oil by 1,000 yuan ($146.41) per ton on June 20, the adjustment only has clipped the price gap between crude and refined oil and has not been able to prevent huge losses at the refineries.
Because CNOOC has only one refinery in China, it has remained almost unaffected by international crude oil hikes. Calculations based on CNOOC's report indicate that during the past 10 years, the company's output of crude oil has increased at an average annual rate of 8.8 percent, much higher than the 1.5-percent growth of China's total crude oil output.
This year, CNOOC also has signed a deal that could boost its future crude oil output. On July 7, China Oilfield Services Ltd. (COSL), one of the four listed companies under CNOOC, announced that it had reached an agreement with Awilco Offshore ASA (AWO), an Oslo-listed offshore drilling company, to acquire 100 percent of its shares for approximately NOK12.7 billion (approximately $2.5 billion) in cash. This is the largest overseas purchase of its kind in terms of transaction value, which has involved Chinese companies.
CNOOC entered into the deal mainly to get AWO's high-specification rigs. It wants to penetrate new seabeds that are 300-3,000 meters deep, where oil, gas and mineral resources are abundant. China has 700,000 square km of deep-sea areas with rich reserves of oil and natural gas. But because of insufficient technology, it cannot explore and exploit resources in most of these places. CNOOC could only explore and exploit deep seabeds up to 500 meters, while foreign countries can penetrate into seabeds that are 2,400-3,000 meters deep, said Li Qingping, chief engineer of the CNOOC Research Center, in an interview with China Business Post.
The exploration and exploitation of oil and gas in deep-sea areas require large and extremely expensive equipment, Li said. Because the rental costs for some drilling ships is as high as $1 million per day, excluding maintenance costs, CNOOC must establish its own deep-sea fleet and have its own deepwater drilling rigs.
AWO is able to meet such demand. According to COSL's announcement, AWO is an international offshore drilling contractor that owns and operates five jack-up drilling rigs and two accommodation units. It owns three other jack-up drilling rigs and three semi-submersible drilling rigs under construction. AWO also holds options for the construction of two semi-submersible drilling rigs. AWO has operations in Australia, Norway, Viet Nam and Saudi Arabia and in the Mediterranean.
The addition of AWO will greatly improve COSL's strength, doubling the company's current number of drilling rigs to 34. After the acquisition has been completed, COSL will have five rigs and own the eighth largest rig fleet in the world-three fewer than the sixth and five fewer than the seventh largest fleets. AWO's 762-meter deepwater drilling rigs can compensate for COSL's shortcomings, because it can drill in sea areas deeper than 500 meters.
The overall improvement of exploration and exploitation technologies will enhance CNOOC's profit-making ability. In its annual report for 2007, CNOOC predicted that its output of oil and gas would amount to 195-199 million barrels of an oil equivalent, an increase of 7-11 percent year on year. With addition of AWO, this target might be easily achieved.