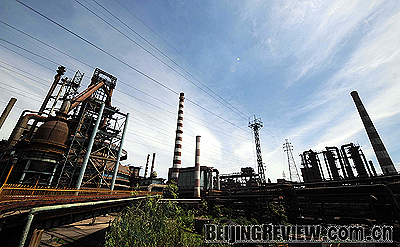 BLUE SKIES: Shougang Group, one of the country's largest steelmakers, honored its "green" commitment to the Olympics by ceasing its production activities in west Beijing and moving to coastal Hebei Province
Shougang Group, one of the country's largest steelmakers and one of Beijing's biggest polluters, recently relocated outside the capital to make way for a "green Olympics" and promote a sustainable environment in the future.
The nearly 90-year-old giant has almost finished clearing out its plant in Shijingshan District, western Beijing. Very few employees still work there at present, and most of the machinery is idle.
In the meantime, Shougang has been shaping up its new home in Caofeidian, a coastal city in Hebei Province about 220 km east of Beijing. A brand-new modern production plant that towers above the Bohai Sea coast will be put into operation this October.
"The massive migration drive is intended to return clear skies to Beijing," Wu Guangfeng, Director of Shougang's No. 3 Steelmaking Plant, told Beijing Review.
The 51-year-old Wu, who has worked for the company for 35 years, has seen Shougang become a cross-regional iron and steel titan that has integrated mining, machinery, construction and foreign trade. But steelmaking remains its core business. In Beijing, it owns three large steel plants and one iron plant.
In March this year, Shougang shut down two of its steel plants and four of its five blast furnaces at the ironworks, Wu said. The other plants would reduce their production to 27 percent of their normal capacities during the Olympic Games from August 8-24. The company would completely shutter them by 2010, according to Wu.
Zhu Jiming, President of Shougang Group, said the most visible result of the company's green efforts has been a reduction in the amount of soot. Beijing officials previously said the company had created 10 percent of the municipality's pollution, especially particles of soot. Some residents who live in western Beijing said the air has become much cleaner since the company moved out most of its production activities, and soot no longer covers their windows.
The move to Caofeidian, which started in 2005, came at a huge cost for Shougang. The group had to forfeit nearly 1.4 million of steel output, or almost two thirds of its total output in Beijing, said Zhu. He also pointed out that the company never asked for any state subsidies and had to cover its losses itself. So far, losses from the relocation project have amounted to 2 billion yuan ($292.83 million) annually, he added.
But Zhu said he was confident about Shougang's future. According to company plans, the new production base in Caofeidian will boast an annual output of 8.98 million tons of iron, 9.7 million tons of steel and 9.13 million tons of rolled steel annually. The new plants would use 220 advanced domestic and international technological items to reduce their emissions by 75 percent, he said.
Zhang Weidong, who is responsible for the company's new iron smelting facilities at Caofeidian, said Shougang would recycle all its waste heat, waste water and solid wastes. For example, waste heat could be used to heat workshops and office buildings; wastewater could be reused after treatment; and solid wastes could be used to produce construction materials such as cement.
Zhang also said the new iron and steel production base in Caofeidian equals advanced world levels in terms of waste gas emission to minimal discharges of 0.3 kg of soot and 0.25 kg of sulfur dioxide for every ton of steel produced. The new plants also would be able to desalinate 20 million tons of seawater every year to meet half of their demand for industrial water.
Zhang pointed out that Shougang's relocation offered an opportunity for it to install and use new technologies. It also would save the company some transportation costs because of its proximity to sea freight carriers that could transport its products to other places. All this would give the company a clear edge over its competitors, he added.
In the meantime, the old No. 3 Steelmaking Plant might be turned into a museum, because Shougang is a symbol of the development of China's steel industry, said Wu. The No. 4 blast furnace, which was put into production in 1972 and produced 42.59 million tons of iron over the past 35 years, will also be preserved. According to a government plan, Shougang's disabled production facilities in Beijing will be turned into a cultural industry zone in a few years, Wu added.