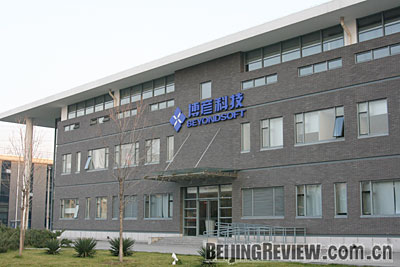 As big multinationals continue to farm out their non-critical information technology and business processes to save costs, Chinese companies are positioning themselves to grab a larger chunk of the market.
Information technology research company IDC forecast that China's outsourcing industry will make considerable headway over the next few years in taking more business away from its main country competitor-India. The American publication BusinessWeek predicted that China would displace India as the largest service outsourcing destination by 2015.
Some Chinese outsourcers appear to be well on their way toward these goals. They already have gained recognition from their existing global clients for their service delivery capabilities. Among the more than 4,000 domestic outsourcing enterprises in the country, Beijing-based Beyondsoft Co. Ltd. stands out as one of these success stories. When it was founded in 1995, the company had four employees and provided only software localization services. But it soon made a name for itself when it landed a contract with Microsoft Corp. to translate its Windows 95 system into Chinese. Over the next 10 years, Beyondsoft had grown into a 3,000-employee-strong vanguard player in the industry, providing constant software testing and development services for a string of multinationals, including Hewlett-Packard Co. Ltd., IBM Corp. and Sony Corp.
Wang Bin, Beyondsoft's General Manager, told Beijing Review that the company's advanced technologies, which ensure quality services and sound intellectual property rights protection, have enabled it to attract big global clients.
But Chinese outsourcing firms still have a long way to go before they can pose a real threat to their dominant Indian counterparts. Indian outsourcing giants such as Infosys Technologies Ltd. and Tata Group each employs more than 100,000 workers and has annual revenues in excess of $3 billion. By contrast, Neusoft Co. Ltd., China's largest outsourcer, has only 14,000 employees and generates about $100 million in annual revenue.
Indian firms have another advantage in that they have already grabbed 90 percent of outsourcing business from the United States, the world's largest outsourcing market, leaving China with a measly 1 percent.
Being dwarfed by Indian outsourcers has become a stone around the Chinese companies' necks as they battle for a bigger slice of the outsourcing pie. Large multinationals always favor top outsourcing firms that have proven track records of delivering strong services. And increasingly, size has become the yardstick to measure the competitive edge of outsourcing firms.
Multinationals usually shortlist only top outsourcing firms for large contracts. This leaves many small ones in China struggling for survival, especially when currency appreciation further squeezes their profit margins.
But larger Chinese outsourcing firms have been expanding both organically and through mergers and acquisitions to improve their chances of winning bigger contracts. In recent years Beyondsoft has employed a strategy of expanding at an unhurried pace by adding hundreds of new workers annually, Wang said.
Strategic international investors have extended a hand to help Chinese outsourcers build up their workforces. For example, a Sino-Japanese investment fund and Synapse Co. Ltd. jointly invested $6 million in Beyondsoft in 2006. The capital infusion enabled the company to maximize the value of its outsourcing work from lucrative industries such as pharmaceuticals and finance, Wang said.
Other Chinese outsourcers have adopted a strategy of quick expansion through mergers and acquisitions. Chinasoft International Ltd., a Beijing-based outsourcer, is one such company. In 2006, it bought Hunan-based Powerise International Software Co. Ltd. for $55 million, ushering in a tide of mergers and acquisitions in the industry. So far, the transaction has been the largest of its kind in the industry. When the deal was done, the combined company had 3,500 employees and was the country's third largest outsourcer by employee numbers.
But Wang pointed out that mergers and acquisitions do not automatically increase a company's service delivery capabilities, because corporate integrations take time and energy. A significant number of employees at acquired companies would resign after a takeover, which can deal a deadly blow to the acquiring firm, he said. A single-minded chase of scale yields little, while a more effective expansion strategy will rely on strong recruitment measures and staff training, Wang said. Beyondsoft, for instance, started recruiting on campuses in 2006. It has hired more than 1,000 college graduates who all must complete a six-month training program.
Other domestic outsourcers are doing the same. Jiangsu-based VanceInfo Software Technology Ltd. recently hired more than 100 recent university graduates in one month, and Neusoft set up its own training school to meet surging demand for its services.
China's outsourcing industry also is benefiting from its growing pool of highly qualified English-speaking professionals. The country had a total of nearly 5 million college graduates last year, including more than 100,000 information technology majors. By comparison, Indian outsourcers have been handicapped by acute shortages of professionals in the wake of the country's 50-percent literacy rate, according to a report in the Economic Observer.