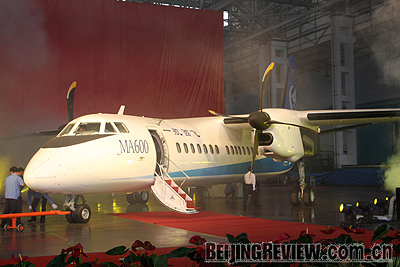 FLY CHINA: Xi'an Aircraft Industry Group rolls out the MA600, a new regional passenger aircraft on June 29. The company's next project is to manufacture the country's first large passenger aircraft
China is now one step closer to fulfilling its desire to build its own large passenger aircraft. The government has tasked Xi'an Aircraft Industry Group Co. Ltd. (XAC), one of the country's top domestic aircraft producers, to manufacture the jet. On July 1, a group of XAC's professionals led by the company Chairman Meng Xiangkai visited the Shanghai-based Commercial Aircraft Corp. of China Ltd. (CACC), which was inaugurated two months ago to direct the aircraft-building activities. This move was designed to involve XAC in the construction program and promote joint technology research on the manufacture of large aircraft, or planes with a load capacity that exceeds 100 tons. Such planes are used for both military and civilian purposes and include cargo and passenger carriers with 200 seats.
The government has directed CACC to take the lead in developing, manufacturing and marketing the aircraft, while XAC has the task of conducting more tangible research work, Meng told Xinhua News Agency.
In the meantime, CACC still will be responsible for coordinating research, supplying raw materials and providing funding and technology applications.
Since its creation in 1958, XAC has produced more than 20 types of aircraft for both military and civilian use. Its military planes are used by the country's air force. Its MA600, a new regional aircraft rolled out on June 29, has safety, comfort and maintenance features that are on par with planes made by large global manufacturers.
XAC has always been positioned as a research and manufacturing base for large and medium-sized aircraft for both civilian and military use, Meng said. The company has become a super-sized aircraft producer that integrates scientific research and manufacturing. It is affiliated with China Aviation Industry Corp. I, a large stakeholder of CACC. This affiliation justifies XAC's pivotal position in aircraft manufacturing, Meng said.
According to a statement on its website, XAC has developed a complete system of research, manufacturing and customer services for civilian aircraft. Through its marketing of the MA600, the company further refined its sales abilities, trial operations and financing, it said.
The company also has mastered core technologies used in building large passenger aircraft. As early as 1980, it had begun to supply aircraft parts and components to Boeing, Airbus and McDonnell Douglas, and forged joint venture management arrangements with major airlines from the United Sates, Canada and France.
Meng told Xinhua News Agency that XAC has conducted research on large transport planes, which share 70 percent of their technology with large passenger aircraft. As a result, the company is expected to accelerate its research and development for large passenger aircraft.
Meng attributed the company's important role to its unprecedented technological prowess. It has 20 design rooms and laboratories. Its design department employs nearly 500 professional aircraft designers, including more than 160 senior engineers.
But Meng stressed that it was still an arduous and complicated task for XAC to build large passenger planes despite its facilities, personnel and capabilities. China's aircraft manufacturing industry still has a long way to go before catching up with the top global players that have the latest technology and efficient organizational structures. It would be a big challenge for China to manufacture large jets according to high international standards, Meng said.
Large aircraft manufacturing is mainly confined to the United States, Russia and a few European countries, with Boeing and Airbus dominating the international market. China buys and rents planes from Airbus and Boeing for its growing domestic aviation industry.
Although observers say it is too early to draw up a timetable for China to start manufacturing large jets, the country hopes to produce its first large aircraft by 2020, a recent Xinhua report said.