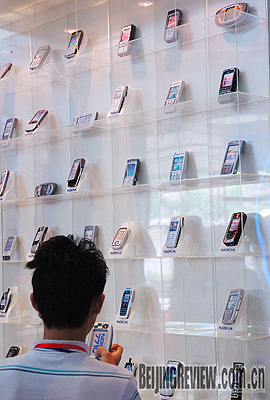 TOUGH RIVALS: Motorola, once the largest cell phone seller in China, is facing an increasing number of new competitors as Lenovo Mobile  (PEI XIN)
Mobile phone maker Motorola Inc. said on April 24 that it lost more money in the first quarter, because global sales in its key mobile unit fell 39 percent. The news came despite the fact that worldwide cellular phone sales rose 14.3 percent during the same period, according to global market intelligence firm International Data Corp.
Motorola posted a net loss of $194 million in the first quarter, with losses in its mobile unit reaching $418 million. Its global market share dropped from 17.5 percent in 2007 to 9.5 percent, while its share of the Chinese market dropped 10 percent.
The company pulled through a tough time in the first quarter in terms of sales channels, products and customer confidence, said Ren Weiguang, General Manager of Motorola Mobile's Terminal Department in China, in a recent article in the Beijing Morning Post.
"We will strive to gain at least a 10-percent market share of the booming Chinese mobile phone market while maintaining a profit increase," said Ren.
Motorola entered China in 1987 when it established an office in Beijing. During the past 21 years, Motorola has witnessed the evolution of wireless communications together with many Chinese mobile phone users. Motorola had dominated the Chinese market before 2005, but later lost its market share to more competitors and local brands. To date, Motorola's sales in China have slid to 10 percent from 21 percent in January 2007, trailing Nokia Inc. and Samsung Electronics Co. Ltd., said Yang Yuxin, an analyst at BDA China Ltd. in Beijing.
International mobile phone giants have suffered big market share declines in China, because the country's two mobile operators, China Mobile Ltd. and China Unicom Ltd., have collectively purchased more cell phones for rural locations and other emerging markets since the first half of 2007. They have purchased mainly low-end and mid-range handsets in which local brands enjoy comparative advantages. This has helped domestic handset manufacturers win a larger collective market share of 37.5 percent, up from 25 percent in 2007.
At the same time, Nokia and Samsung, major competitors of Motorola in China, have been trying to secure larger market shares. Nokia, with its advantages in product diversity, sales channels, product promotions and packaged sales, saw its first-quarter sales continue to increase and its market share reach 37.4 percent.
Samsung has invested substantially in the Chinese market in the past year by introducing more products, adjusting its product portfolio and pricing and distribution strategies, strengthening its marketing efforts and expanding its cooperation with mobile operators in customized handsets. As a result, its share of the Chinese market outpaced Motorola's by 6 percentage points in the first quarter of 2008.
By contrast, Motorola's product portfolio is thinner. The company failed to introduce more innovations after it started marketing its hot-selling RAZR series handsets in August 2004. "This has prevented the company from winning more customers," said Yang. Motorola only introduced 13 new mobile phone models in China in 2007, while Nokia introduced 55, the majority of which were low-end handsets.
With an 80-year history of technological innovation and branding behind it, all Motorola needs is a rejuvenation plan. The company will start by launching more diversified products designed for Chinese customers, Ren told the Beijing Morning Post.
Motorola also has failed to introduce more handsets to cater to the Chinese market since the rollout of its MING handsets, a Linux-based smartphone, Ren said. The company came to realize that this has been one of the reasons for its unsatisfactory performance in China in the past two years, he added.
Motorola launched a new model in its ROKR handset series-the ROKR E8-as a music phone, on April 30 and is about to debut seven or eight new models in China in the coming three months.
As part of its rejuvenation plan, Motorola also has shown interest in developing 3G phones based on China's own time division-synchronous code division multiple access (TD-SCDMA) standard. The company has gained a 3G-network access license for its first GSM/TD-CDMA dual-mode mobile phone and will debut the dual-mode phone in June, Ren said.