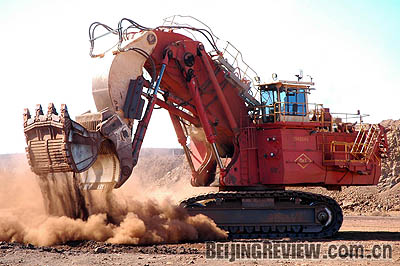 IRON INTENTIONS: Sinosteel cooperated in iron ore exploration projects with Australian mines before launching China's first takeover bid for an Australian company (Mi LIGONG)
Pressured by bulging iron ore prices in the international market, Chinese steel makers are increasingly looking to alternative mining companies in Australia to wean themselves off supplies from the mining giants Rio Tinto and BHP Billiton. The latest example is the takeover bid by Sinosteel Corp., one of China's largest steel makers, for Midwest Corp., a Perth-based iron ore miner.
Sinosteel is currently the largest iron ore importer in China and a major supplier for many Chinese steel makers. Midwest is overshadowed in scale by its other two domestic counterparts-Rio Tinto and BHP Billiton, but enjoys advantages in small mines and has low transportation costs due to its location near the port in Perth.
On March 14, Sinosteel launched a cash bid for Midwest at a price of AU$5.6 ($5.2) per share, which values the target at AU$1.2 billion ($1.1 billion). Already having a 19.9-percent interest in the Australian company, Sinosteel needs to plunk down another AU$954 million ($892 million) for the takeover bid. If successful, it would become one of the largest mining takeovers by a Chinese company.
On April 27, the steelmaker announced that its bid had been approved by China's State Administration of Foreign Exchange and the Australian Foreign Investment Review Board, signaling brighter prospects for its acquisition drive.
Xu Xiangchun, Director with Beijing Lange Iron and Steel Research Center, said Sinosteel's takeover bid is purely a commercial behavior recognized by both Chinese and Australian authorities, and will not come with any strings attached.
However, there are still further obstacles to surmount before the takeover bid can be deemed a success. On April 7, Midwest alleged that the bid didn't take into account its future prospects following the signing of a contract between Brazilian mining behemoth Vale and some steel makers, which hints at an upward trend for iron ore prices.
In a letter to its shareholders days later, Midwest advised not to take any action on the bid until the board makes a formal response to the offer. Bryan Oliver, Midwest's CEO, told the press that the board would consider it "a fair value" if the offer is raised 25 percent.
In response, Huang Tianwen, Sinosteel President said the offer was at a 35-percent premium to Midwest's closing price of AU$4.15 ($3.9) on the day before the announcement of the bid (March 13). "If it is successful, the deal will spur the development of Midwest's region in Western Australia into a major world-class iron ore production base," Huang said.
According to an article in the Wall Street Journal, Sinosteel has recently sweetened its cash offer for Midwest to AU$6.38 ($6) per share, representing a 53.7-percent premium to its closing price on March 13. This offer won support from Midwest's previously reluctant board.
Offering a great relief for an energy-thirsty China, the takeover drive comes amid a flurry of overseas investments in the Australian resource sector. Prior to this, China's largest aluminum company, the Aluminum Corp. of China teamed up with the U.S. aluminum producer Alcoa to buy a 12-percent stake in the iron ore giant Rio Tinto.
Sinosteel's takeover may also add to China's bargaining power in the annual iron ore price talks, which have stagnated as Rio Tinto and BHP squeeze Asian steel makers for steeper price increases. According to conventions, if one of the three major producers, namely Vale, Rio Tinto and BHP Billiton, strikes a price with a major steel maker, it should spontaneously prevail as a benchmark price for other producers and steel mills during the contract period. In February this year, Vale, the world's biggest iron ore producer, agreed with Japan's Nippon's Steel Corp. and South Korea's Posco on price increases between 65 and 71 percent. Vale has also struck a deal with Chinese mills led by Baosteel on a similar price increase. Rio Tinto and BHP, however, have declined to fall in line with these agreements, striving to extract a freight premium from China and an 80-percent price hike for iron ore.
As the largest iron ore consumer, China is nervous about its reliance on importing iron ores. Saul Eslake, Chief Economist of Australian and New Zealand Banking Group told London-based newspaper The Times that in 2007 China sourced over 40 percent of its iron ore imports from Australia, accounting for 53 percent of Australia's total exports.
As a result, direct investments in Australian resource sectors can grant China more avenues to benefit from the booming international mining industry, and at the same time tighten its command over strategic resources. Luo Bingsheng, Executive Vice Director with China Iron and Steel Association said Chinese steel makers are encouraged to go global so as to ensure to secure safe energy supplies.