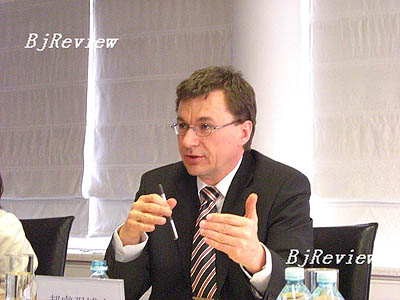 This year marks the 30th anniversary of China's reform and opening up to the outside world. Siemens has been active in China since its first presence here as early as 1872, and has witnessed the rapid growth of China's economy since 1978.
In a recent interview with Beijing Review reporters Chen Ran and Matthias Mersch, Richard Hausmann, President and CEO of Siemens Ltd., China, shared his views on the changes that transpired in this country as well as his current team's prospects.
Beijing Review: How do you view the reform and opening-up policy? Did Siemens see any investment potential in China in 1978?
Richard Hausmann: China now is not only a market of products to the outside world, but also a country of the source of production, research and development, as well as innovation. The policy is a significantly wise decision that not only helped Siemens and China, but also the whole world. It is the key success factor for the country's economy; it was absolutely the right decision for the country. We can see the fruit of the decision for many years to come.
Siemens is probably one of the few international companies that has witnessed these 30 years in China. In December 1978 and January 1979, we signed the first two Memoranda of Understanding with China's former Ministry of Machine-Building Industry. That was the basis of our engagement in China. This is a clear example of what Siemens all about.
Siemens at that time, 30 years ago, actually was not clear about what would happen. It was rather a risky decision to go into and engage a company in China. It was a sign of innovation, entrepreneurship and also an international approach. The early engagement, supporting the reform and opening-up policy, was a major milestone for Siemens globally as well.
Do you see any changes in terms of investment environment and competition? Will this have an impact on your development strategy?
The overall investment climate in China, for an international company, is constantly improving. I'm not saying that it's easier to form a joint venture company or even to buy companies; this may not be the case. But by and large, the transparency of the business environment, the improving intellectual property rights (IPR) protection, as well as clearer regulations on the labor law and so forth, are helping to improve the investment environment.
The competitive situation has also changed. On the one hand, more and more multinational companies are coming here; on the other hand, a lot of very innovative local companies are now on the rise. It's a very fruitful and stimulating atmosphere, which we are enjoying very much.