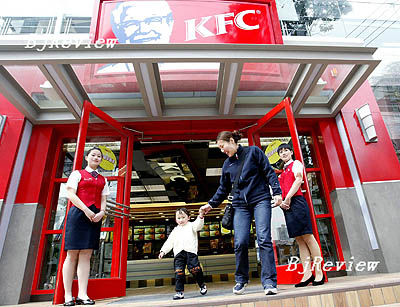 East Dawning, a new fast-food chain, found its way to Beijing on March 14 when it opened a restaurant at the Capital International Airport's new Terminal 3. With the airport addition, East Dawning now has a total of 14 restaurants in the country, with 13 in Shanghai.
But East Dawning does not plan to stop there. The new chain, operated by global fast-food giant Yum! Brands Inc., plans to further expand in Beijing, vying for the stomachs of thousands of visitors and athletes during the Olympic Games in August. It also is drawing up plans to open restaurants in other cities across the country and possibly export its strategy to India, according to a Wall Street Journal article.
Decked out in orange walls and wooden tables, East Dawning's restaurants have become a rising force in Shanghai's fast-food market since they first appeared in April 2004. They are the latest creation of Yum! Brands Inc., the largest global fast-food company in terms of numbers of restaurants, with more than 35,000 outlets around the world. At present, Yum boasts nearly 2,000 KFC and Pizza Hut restaurants in 400 Chinese cities, triple that of its biggest rival McDonald's Corp.
Sam Su, President of Yum's operations in China and founder of the new restaurant chain, reckons that Chinese food is still the favorite of people here, despite the fact that KFC has become the largest chain restaurant in the country.
With its wild success in winning over Chinese diners to its KFC restaurants, Yum believes it can apply KFC's concept to East Dawning, which draws its name from a classic poem and means enjoyment of delicacies.
On offer are Chinese standards such as noodles, rice, soybean milk, fried bread sticks and plum juice. The chain ensures its ingredients are fresh by using cabbages that are delivered the same day and storing fragile dumpling batter in refrigerators set at a constant temperature.
A flavorful concept
Su is the brains and brawn behind East Dawning and its ambitious expansion plans.
In 2007, Yum derived one third of its total profit from its China division, offsetting the impact of its stagnant business in the United States.
As a reward for his efforts, Su was appointed vice chairman of the board in March while retaining his position as head of the company's Chinese operations, overseeing its businesses on the mainland and in Taiwan and Thailand.
Before Yum considers taking its East Dawning concept abroad, it still must win over more palates in China. Forecasts for food business in China offer sanguine prospects for the company's aspirations. China has about 4 million restaurants, seven times that of the United States, according to Technomic Inc., a Chicago company that issues information on the food service industry. They are projected to have consecutive double-digit annual turnover growth up to 2010, according to The Wall Street Journal.
China's domestic fast-food industry also sees similar momentum. Its total turnover last year was 200 billion yuan ($28.4 billion), an increase of nearly 30 percent over the previous year. It now comprises almost 80 percent of the country's fast-food market, far outperforming its foreign counterparts.
In the short term, what really whets Yum's appetite is the upcoming Beijing Olympics. The China Cuisine Association forecasts that this year the capital will receive 5 million inbound tourists and 120 million domestic tourists. They are expected to pump about 20 billion yuan ($2.8 billion) into local restaurants.
Loss of appetite?
Despite its plans to spread the East Dawning chain around China and beyond, Yum must tackle some sticky situations along the way. East Dawning will have a tough time cooking up easy meals that appeal to the Chinese nationwide. Unlike the universal appeal of hamburgers and pizza for Americans, there are no standardized fast foods that appeal to all Chinese. East Dawning also must consider that Chinese people like to mix their food with noodles and vegetables, which may soften and get sticky. And the restaurant chain will find that Chinese favorites such as vegetarian delicacies are much harder to prepare quickly than fried chicken.
Su acknowledges these potential problems and is working on them. "Yum wants a nationwide unified menu to ensure high efficiency, but appropriate adjustments have to be made to cater to local tastes," he told The Wall Street Journal. As an example, he pointed out that the East Dawning restaurants in Shanghai feature Taiwan-flavor minced pork and Cantonese-flavor mushroom chicken.
Su also said Yum's corporate executives initially did not have a clue about how to create a Chinese fast-food brand here.
"But we Chinese know how," Su said. "Instilled with Western concepts of fast-food management and raised on rice, our local team is perfectly qualified for the job."