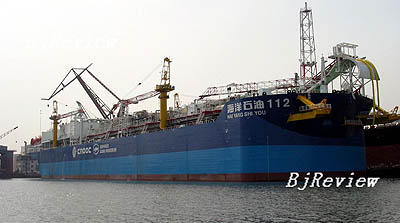 Amid the dark prospects of a global economic downturn, Chinese oil suppliers have been able to sustain global pressure thanks to a stretched domestic oil supply. China National Offshore Oil Corp. (CNOOC), the largest offshore oil and gas producer of China, has even vowed to boost its 2008 oil and gas production on the back of strong domestic demand and further deep-sea exploration.
After relieving itself from heavy production losses brought about by violent typhoons last year, CNOOC produced a total of 40.46 million tons of oil and gas in 2007. Regarding 2008, it has made no secret of its ambitions. Recently, it announced its production program for 2008, aiming to produce 195 million-199 million boes (barrels of oil and gas) this year, outnumbering a revised 2007 output forecast of 169 million-171 million boes.
Helped by escalating output and the downgraded enterprise income tax, CNOOC will likely witness expanded net profits in 2008. Yang Hua, CNOOC's Chief Financial Officer, dismissed worries over the impact of a global economic slowdown on its crude oil sales as unwarranted. "Faced with a short domestic supply, Chinese oil producers are still untouched by global economic turbulence," said Yang. However, Yang did confess to concerns over domestic inflation and fall of the U.S. dollar.
Exploration drive
"To lift exploration and production in 2008, the company has earmarked $5.24 billion in capital expenditures, representing a robust yearly growth of 43.7 percent," said Yang. "Among those, $1 billion will be spent on exploration, especially on deep-sea oil fields. Efforts will double in drilling and collection of earthquake information. We may well team with other companies in tapping the deep-sea oil resources."
According to the program, CNOOC is scheduled to put 10 new projects into operation and 15 ones under construction this year. It also endeavors to drill at least 86 test wells. Beside this, 20 new projects will be planned in a drive to ensure a reserve replacement ratio of over 100 percent.
In recent years, its exploration efforts have begun to pay off. CNOOC recorded 10 new oil or gas field finds last year in Beibu Gulf and Bohai Gulf. Its biggest breakthrough of 2007 was the identification of a new oil and gas field dubbed 28-2 East. According to test drilling, the field is estimated to produce 1,600 barrels of oil and 10 million square meters of gas per day on average.
These discoveries have increased CNOOC's oil and gas reserves in Bohai Gulf, and are helping breathe life into the development of China's offshore oil and gas industry. According to statistics released by the National Oceanic and Atmospheric Administration, the added value of the industry gained 17.3 percent last year over 2006, up to 76.9 billion yuan ($10.8 billion).
CNOOC's deep-sea exploration drive began in 2006 when CNOOC and its partner, Husky Energy Co. Ltd., identified a major gas field in the South China Sea in Chinese territorial waters. The block, known as Liwan 3-1-1, contains 113.3 billion-169.9 billion cubic meters of recoverable hydrocarbons. This discovery can be read as a milestone for deep-sea oil and gas exploration for China.
Experts believe China is blessed with a rich deep-sea energy reserves, equal to 100 times its land energy reserves. However, dragged down by fledgling engineering technologies, China formerly lagged behind in deep-sea exploration. Complicated geographic conditions, unfavorable oceanic climate and lax investigation efforts can also be blamed for the lack of advancement.
Through reform and industry reshuffling, overseas mergers and acquisitions, as well as integration of upstream and downstream businesses, the company has sharpened its competitive edge in exploration technologies and experienced a leap forward in management. Zhou Shouwei, Vice General Manager of CNOOC, claimed that the company has commanded 10 sets of core technologies for exploration of offshore gas and oil fields and has gained a leading position in exploring onshore gas and oil fields, especially heavy oil fields.
"According to international conventions, six to eight years are normally needed for the exploration and construction of an offshore oil and gas field," said Zhou. "It took China only three years to identify an onshore oil and gas field with an annual production capability of 1 million to 2 million tons of oil and gas and put it into operation."
Currently, China has around 200,000 square km of deep-sea territory with an onshore depth of over 300 meters, 70,000 square km of which have been committed to cooperative exploration with overseas partners. Other explorations will be conducted directly by CNOOC.
Overseas expansion
In recent years, China's appetite for oil resources has forced the country's companies to look overseas in search of oil and gas supplies.
In April 2006, CNOOC raised about $2 billion from the Hong Kong stock market as an effort to replenish its cash resources for overseas takeovers. Prior to that, it launched successful dual-place initial public offerings in New York on February 27 and in Hong Kong on February 28, 2001.
In June 2006, it announced that CNOOC China Ltd., its wholly funded subsidiary, was granted a loan of 12.8 billion yuan ($1.8 billion) by the Export-Import Bank of China to fund the company's oil project in Nigeria.
It has also gone on with a number of acquisition offensives in Indonesia, Australia and on the African continent in the past few years, such as on Africa's Gulf of Guinea coastline, which is widely seen as one of the world's oil exploration hotspots.
CNOOC's input is yielding results. Its overseas oil and gas production in the third quarter of 2007 jumped 43 percent over the previous year, to 59,455 boes per day.
Fu Yucheng, General Manager of CNOOC, revealed that by August 2007, the company had expanded its presence to 10 countries and will pump more investments in overseas exploration to feed the growing domestic oil demand.
"CNOOC is striving to push its overseas output up to 20-25 million tons of oil and gas equivalents by 2010," disclosed Zhou.