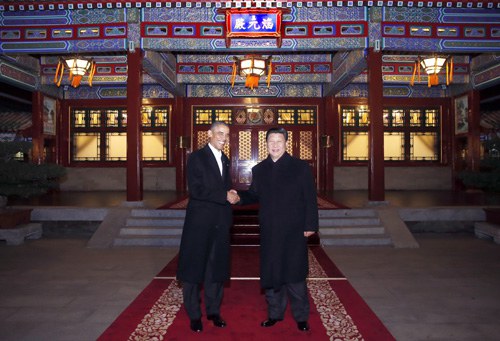 NO-NECKTIE SUMMIT: Chinese President Xi Jinping and his U.S. counterpart Barack Obama shake hands before an informal meeting at the Zhongnanhai leadership compound in Beijing on November 11 (JU PENG)
Sino-U.S. relations have attracted unusual attention recently—not just because they have the world's most important bilateral relationship, but also due to the unusual interaction between presidents of the two countries.
When Chinese President Xi Jinping and his U.S. counterpart Barack Obama had their first no-necktie summit at the Sunnylands estate in the United States in early June 2013, the two heads of state walked and talked alongside one another. After a 17-month interval, a similar informal meeting was held again between Xi and Obama in chilly November at the Zhongnanhai leadership compound in Beijing right after the 22nd Asia-Pacific Economic Cooperation Economic Leaders' Meeting.
The cordial atmosphere of the one-on-one meeting on November 11 is seemingly more helpful for the two presidents to open their minds and reach more points of consensus. After formal talks between Xi and Obama on the following day, an unprecedented joint plan was announced on the reduction of greenhouse gas emissions as well as other deals on visas, trade and military-to-military ties.
Observers said that the surprisingly long list of deals show that the joint commitment between the world's two largest economies is crafting a new type of major-country relationship with important international implications.
Concrete deals
After long hours of talks between Xi and Obama on November 12, China and the United States announced their respective post-2020 goals for coping with climate change in a joint announcement.
Under the agreement, the United States would cut its 2005 level of carbon emissions by 26-28 percent before the year 2025. China intends to see the peak of carbon dioxide emissions around 2030 and increase the share of non-fossil fuels in primary energy consumption to around 20 percent by 2030.
As the world's two largest economies and major emitters of greenhouse gases, the deal between China and the United States can inject momentum into the global climate negotiations and inspire other nations to join in coming forward with ambitious actions as soon as possible, said Jia Xiudong, a senior researcher with the China Institute of International Studies (CIIS).
China was the first among developing countries to formulate and implement a
national climate change program and has adopted a national plan to make sure that it will meet the target of cutting carbon intensity by 40 percent to 45 percent by 2020 from the 2005 level. In 2013, carbon intensity in China was down by 28.5 percent from the 2005 level, which was equivalent to a reduction of 2.5 billion tons of carbon dioxide emissions.
Jia noted that other deals agreed to during the talks are also of milestone significance.
According to a joint statement by the two countries, China and the United States have agreed to continue to take the bilateral investment treaty negotiations as the most important issue regarding their economic relationship and will "input more resources" into the negotiations with a view to reaching a comprehensive high-standard bilateral investment treaty. Both sides also agreed to an extension of the validity of short-term business and tourist visas from one to 10 years, and of student visas from one to five years.