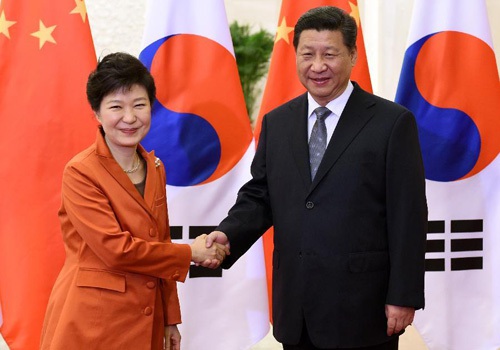 Chinese President Xi Jinping (right) meets with President of the Republic of Korea Park Geun-hye in Beijing on November 10 (MA ZHANCHENG)
China and the Republic of Korea (ROK) have concluded substantive negotiations on a bilateral free trade agreement (FTA), the two heads of state announced here Monday, hailing the FTA a milestone in regional integration.
Chinese President Xi Jinping and his ROK counterpart Park Geun-hye confirmed the conclusion of the talks in a meeting Monday on the sidelines of the ongoing Asia-Pacific Economic Cooperation (APEC) meetings.
"The establishment of the China-ROK free trade area is of landmark importance and will effectively promote regional integration of the Asia-Pacific," Xi said during the meeting.
For her part, Park also said the setting up of the free trade area is a good news for global economic recovery as well as development and prosperity in Asia.
"It is a day worth celebrating for both ROK and China," Park said.
She said the ROK will continue to make efforts so that the agreement could enter into force as soon as possible.
The two leaders also witnessed the signing the minutes of their Monday meeting by Chinese Commerce Minister Gao Hucheng and ROK's Trade Minister Yoon Sang-jick on behalf of the two governments.
China and the ROK officially launched FTA talks in May 2012.
Earlier reports said leaders of the two countries had announced in July that they would try to conclude the negotiations by the end of 2014.
China is already the ROK's largest trading partner and largest market for Korean exports, while ROK is China's third most important trading partner and was the fifth biggest source of foreign investment in 2013.
Two-way trade totaled $274 billion last year, and the leaders have promised a rise to $300 billion by 2015.
Park arrived in Beijing Sunday to attend the 22nd APEC Economic Leaders' Meeting slated for November 10-11.
(Xinhua News Agency November 10, 2014)