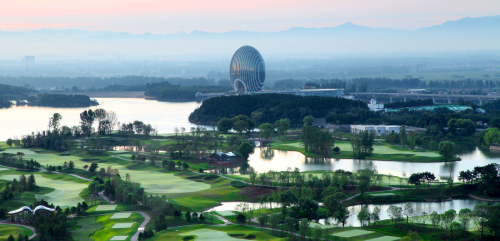 Picturesque Yanqi Lake basks in morning light
On November 5-11, China is hosting the 2014 Asia-Pacific Economic Cooperation (APEC) Economic Leadersí Week in its capital city of Beijing. This is the second time a Chinese city has hosted the informal get-together, following the Ninth APEC meeting was held in Shanghai in 2001. Beijing has carried out a sizable amount of work in preparation for the APEC meetings.
Venues prepared
Nestled among the rolling hills in Beijingís northeastern Huairou District, about 50 km from downtown Beijing, sits Yanqi Lake. Named for its attractiveness to wild geese in spring and autumn, the lake was chosen as the location of the 22nd APEC Economic Leadersí Meeting on November 10-11. Meetings will take place on an islet in the middle of the lake.
Huairou has beautiful scenery, with hills covering 89 percent of its area, sections of the Great Wall running along some of their ridges. It also has many rivers and springs with high-quality water.
Thanks to its alluring environment, Beijing decided to build the 21-square-km Yanqi Lake Eco-Development Demonstration Zone, including an international convention center for large-scale international meetings and high-end commercial exhibitions, construction of which started in December 2010. Now, the zone is ready to greet guests attending the APEC activities.
The conference venues were constructed to be environmentally friendly and have a low carbon footprint. More than 70 cutting-edge ecological technologies have been adopted to achieve 100-percent clean-energy use and hazard-free treatment of waste and sewage, according to Zhao Huimin, Director General of Beijingís Foreign Affairs Office.
A tunnel was built to transport sewage on the islet to a sewage treatment plant 4 km away. ìNot a single drop of dirty water will be left,î said Wei Haidong, a local official in charge of ecological development at Yanqi Lake.
A bridge has been built to connect the islet to nearby highway, which is only half an hour drive from the Beijing Capital International Airport. A plane-parking apron has also been built on the island to facilitate access by air.
Other major meetings of the 2014 APEC Economic Leadersí Week will be held at the China National Convention Center in Beijingís Olympic Park, which served as the main media center during the 2008 Summer Olympics. The center is the largest of its kind in Asia.
Since October 2013, the center has renovated its facilities in preparation for APEC, including replacing conventional lights with energy-saving LED alternatives, repairing elevators and escalators and giving the interior a fresh coat of paint.
A test run of the APEC meeting facilities and rehearsals was conducted on October 15 at various locations, including the islet on Yanqi Lake, the China National Convention Center and at the Beijing airport. During the rehearsal, volunteers simulated meeting procedures and tested catering, security and transportation
services.
Beijing Mayor Wang Anshun observed the drills on the islet in Yanqi Lake. After the drill, he convened an on-site meeting to identify problems and set deadlines to correct them. Wang said that preparing for APEC week is an honor for the whole city and urged everyone to do their best.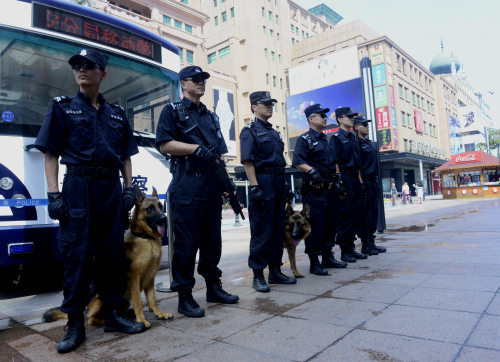 Beijing police officers patrol Wangfujing Pedestrian Street at the cityís commercial center
Tightening security
In preparation for APEC meetings, Beijing has also tightened up security. Beijing will be at the highest-level security alert during early November, and special police will be on-call 24 hours a day.
Meanwhile, anti-terror measures will be strengthened, especially in key areas, with a focus on increasing surveillance.
During APEC week, in addition to armed and regular police, about 1 million volunteers will patrol the streets and help protect their neighborhoods.
More than 1,000 high-fidelity surveillance cameras that can identify a personís face at 30 meters have been installed in various parts of Huairou, according to the districtís public security bureau. These new cameras will serve along with the districtís old cameras, weaving a security net. The bureau has also trained a 150-person team to monitor these cameras.
In addition, the China National Convention Center also added more than 400 surveillance cameras, which cover every area of the center.