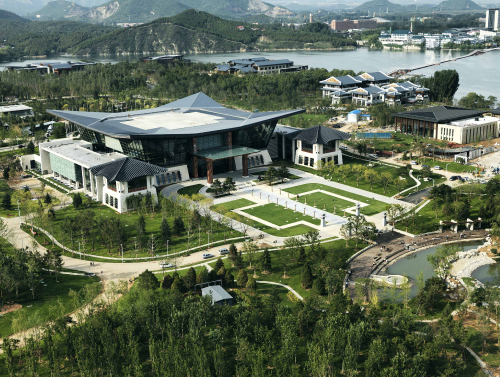 The conference center
Venues for the APEC 2014 Economic Leadersí Meeting cost a total of 36 billion yuan ($5.89 billion) and the buildings themselves cover 31 square km. The main venues include an international conference center, a five-star Kempinski hotel, 12 presidential villas and a boutique hotel.
The Conference Center
The main venue for the 2014 APEC meetings, the centerís 14,069 square meters of meeting facilities include an 8,277-square-meter conference center, offering participants the largest comprehensive and multifunctional event space in China.
The conference center is divided into three storeys, including an underground room. A mezzanine has been installed between the first and second floors to act as an additional working area.
The distinct architecture of the center draws creative inspiration from Chinaís Han and Tang dynasties while the blue roof symbolizes that of Beijingís eponymous Temple of Heaven.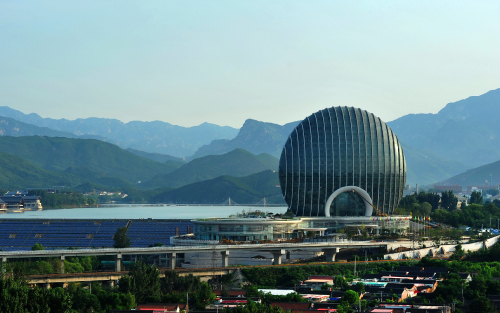 The Kempinski Hotel at Yanqi Lake
The Kempinski Hotel at Yanqi Lake
The main building of the Kempinski hotel covers 47,678 square meters, rising 97 meters into the sky. Viewed as a ìrising sunî from its front, the five-star hotelís 21 floors house 306 exquisite guest rooms.
The unique architectural design of this Kempinski Hotel symbolizes harmony and unification. With a special light-inlet design in its glass curtain walls, the hotel provides guests with an ideal opportunity to view the sun rising from the lake. The disc shape of the entire building exemplifies the traditional Chinese concept of the ìunity of heaven and man,î with the circular shape expressing the harmonious coexistence of humans and nature.
The 18,075-square-meter exterior of the hotel is covered with over 10,000 glass panels, giving it a translucent and reflective effect. As part of the buildingís artful design, the glass exterior reflects the color of the sky at its top, the Yanshan Mountains across its middle and Yanqi Lake at its base.
Presidential Villas
The 12 presidential villas blend contemporary and traditional design with thematic decor, paying homage to such influences as Beijingís Chinese Imperial Gardens and the siheyuan, or traditional courtyard, concept combined with modern elements. Each villa can be divided into ground and underground floors, with the area of each measuring between 5,000 and 8,000 square meters. The ground floor of each villa houses a small banquet hall, conference room, a presidential suite, VIP reception room and several standard guest rooms, while the underground section provides guests with an entertainment room, fitness room and an indoor swimming pool.
The Boutique Hotel
Linked with a small wharf on Yanqi Lake, the boutique hotel was designed with Chinese traditions in mind. The three-walled courtyard is enclosed by separate hotel buildings whichówhen viewed from aboveóread as the Chinese character jing, or ìcapital,î symbolizing its place in the historic city. This construction style also utilizes such traditional design factors as glass lanterns, latticed windows and sloping roofs and with modern flair.