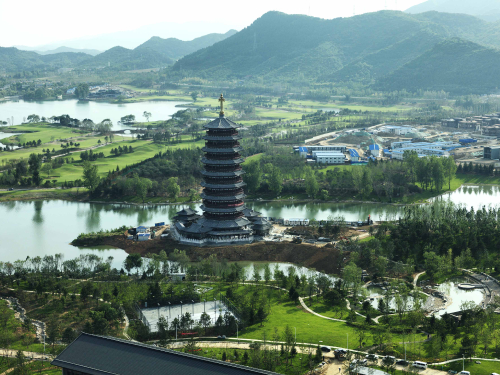 A panoramic view of the main APEC venue on the islet in Yanqi Lake
Huairou is famous for its beautiful environment and fresh air. As host city, to welcome the 2014 APEC meetings, the district has undertaken meticulous efforts to improve the quality of its environment, including promoting clean-energy use, eliminating old vehicles, upgrading its industries, controlling dust on construction sites, and tackling water pollution at its source.
Cutting emissions
From time to time, heavy smog envelops Beijing, ruthlessly depriving the capital city of its beautiful colors and endangering residentsí health. In order to reduce smog, Huairou has resolved to curb emissions prior to hosting the APEC meetings.
This year, the district continues to replace coal with clean energy, with a focus on villages in the vicinity of the APEC meeting venues and along nearby highways. In Fangezhuang Village of Yanqi Town and Hefangkou Village of Huaibei Town, residents there have converted from coal-fired heating to gas or electric heat.
At the home of Ren Lijun, a villager living in Fangezhuang, a new gas-fired heater has been installed on the wall. His home is clean and tidy. ìIn the past, villagers used coal for heating and cooking. Coal stockpiling and burning made the rooms very dirty and stuffy,î Ren said.
Now, 547 households and 130 businesses in the village have replaced coal stoves with gas heaters, which is expected to reduce coal consumption by 4,000 tons a year, said Ma Chunxiu, Deputy Director of Huairou District Rural Committee.
Assuming the heating period is four months, and the gas-fired heating cost is 30 yuan ($4.80) per square meter, a household with a living space of 100 square meters can slash their total heating costs by 1,000 yuan (about $160).
Hefangkou is the first village in Huairou to convert from gas-fired heating to electrical heating. The ongoing project is expected to benefit 557 households and reduce inferior-quality coal use by 1,671 tons.
In addition to these projects, Huairou has also supplied liquefied petroleum gas (LPG) for cooking to households in mountainous areas and villages near the meeting venues. Currently, LPG has been supplied to 31,000 households in nine townships, which is estimated to cut coal consumption by 7,750 tons.
The local government is also subsidizing households, village committees, kindergartens and schools that substitute low-quality coal with superior-quality coal.
Ma said that through the aforementioned projects, plus a project that aims to renovate rural houses and improve their insolation, the district will cut inferior-quality coal consumption by a total of 73,700 tons, representing a drop of 32.7 percent from 2012.
In addition, to further reduce smog, Huairou has taken older vehicles off the road and is promoting clean-energy use amongst drivers. From this January to September, the district environmental protection bureau phased out a total of 4,186 old vehicles. All buses in the district are now fueled with clean energy, taxies are powered by electricity, and coaches all meet Beijingís newest emission standard. Sanitation, postal and construction-waste-shipping vehicles are also being upgraded to use clean energy.
Construction sites have now taken measures to decrease dust, especially during sediment transport. The district also promotes the use of advanced technology to reduce the emissions of volatile organic compounds in industries such as packaging, printing, automobile manufacturing, machinery and electronics.
Thanks to these efforts, from January to September, Huairouís atmospheric concentrations of PM2.5, PM10, sulfur dioxide and nitrogen dioxide dropped by 0.5, 2.7, 15.6 and 2.7 percent, respectively.