Among the documents, some record 372 people that were sent to Unit 731, for "special transfer," including Chinese, Russians and Koreans. Special transfer referred to sending prisoners who were no longer at any use in experiments for the development of biological weapons.
Professor Jin Chengmin, Curator of the Museum of War Crime Evidence by Japanese Army Unit 731 (731 Museum), said that according to the confessions of a former army official of Unit 731, at least 3,000 people were used for human experimentation with biological and chemical weapons.
Documents in the Jilin Provincial Archives show that Japanese army units used biological warfare in more than 20 provinces and cities in China on 161 occasions, claiming more than 270,000 lives and causing more than 2.37 million people to be infected by diseases.
Even today, a large number of Chinese people still suffer because of chemical weapons abandoned by Japanese troops within China and the environment is still contaminated. Statistics from the 731 Museum show that about 2 million gas bombs and 100 tons of toxicants abandoned by Japanese troops have been discovered across dozen of provinces in China and more than 2,000 people have suffered from injuries as a result. One prominent case was in Qiqihar in Heilongjiang, where 43 people were injured by five containers of contaminants unearthed at a construction site in 2003, leaving one person dead.
However, no Unit 731 members were found guilty after WWII. Files made public by the U.S. National Archives and Records Administration on January 12, 2007 show that Ishii Shiro, head of Unit 731, provided several trucks' worth of their research results to the United States in exchange for safety and freedom for himself and other army officers. The deal was kept secret for a long time.
"The research reports are invaluable, but they were made from human blood and human lives," said Jin with the 731 Museum. Jin has researched the war crimes of Unit 731 for 24 years.
In addition, among the newly published files, there are 14 that detail Japanese troops torturing Chinese and foreign laborers, including teenagers as well as U.S. and British prisoners. Files show that the laborers were under close watch, suffered inhumane treatment and many of them became ill and died as a result. "Bodies of Chinese workers were strewn everywhere and dogs were eating their corpses," one file says.
Email us at: yulintao@bjreview.com
Hard Evidence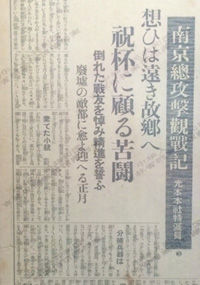 (XINHUA)
"After a sweeping attack [in Nanjing] by the Sukekawa Unit and the navy, dead bodies stretched for 1,000 to 1,500 meters long from Zhongzheng Road to the lower reaches of the Yangtze River. About 85,000 enemies [Chinese people] were killed within three days."
—Excerpt from a report titled Witness of Nanjing Attack in the Nara Edition of Osaka Daily News on December 23, 1937, written by a special correspondent named Mitsumoto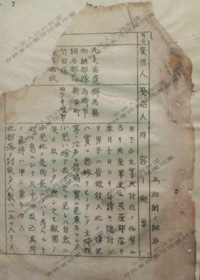 (XINHUA)

"We are currently carrying out a mop-up operation, fighting the Chinese army and attacking villages. All men in the village have been beheaded and the children were thrown into a fire. I found it difficult, but when I realized they are the children of the enemy and that they will seek revenge when they grow up, I made up my mind. We killed 150 people in the village."

—Excerpt of a letter to Tadaiue at Nitta Cho in Gunma County from Takokuaki of Jukjeon Unit, Hosoya Troop of Japan's North China Dispatched Forces, intercepted by the Japanese army and recorded in its Postal Review Monthly (February, date and year unknown)