Li Songshan stands in a construction site in suburban Beijing. Through the clouds of dust kicked up by rumbling building machines, the 71-year-old sees a vision of his long-held dream: an African village, with 13 buildings covering 10,000 square meters, providing Chinese citizens with a real-life glimpse at the continent's culture.
When the village is erected, it will be the first privately owned, non-profit organization inChinadedicated to promoting African culture. The project is funded by Li and his wife, Han Rong, both renowned around China as scholars of African culture. They could have put off building the village, but they didn't. Above anything else, time is of the essence. Li is suffering from cancer. On July 20, 2012, ground was broken on the African Village project, and construction began.
"As the first generation of Chinese workers in Africa, we want our fellow countrymen to know that Africa has more than rich natural resources," Han said. "We hope the splendid culture and art there can attract more Chinese youth to spend their life in Africa, like we did decades ago."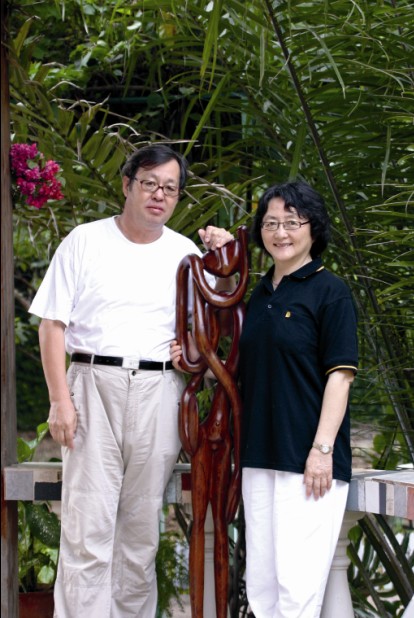 Devotion to art
Changchun is a city in northeast China's Jilin Province, known for bleak winters and heavy industry, but here Makonde sculpture is easily found. The Makonde are an ethnic group living along the Tanzania-Mozambique border. The group's woodcarving is referred to as the grandfather of modern African wood sculpture. They depict the group's fears and hopes, their spirituality and mysticism, religion and superstitions.
Located at the Changchun World Sculpture Park, the Songshan-Hanrong African Art Collection Museum houses 12,000 pieces of African art work, all donated by Li and Han. It's nearly their entire collection; it took them three decades to accumulate. "It was like marrying off our own daughter," Han said.
"It was hard, but you still want her to end up with someone good, someone who deserves her."
The couple's connection withTanzaniabegan in the late 1960s, when they were sent by the Chinese Government to work there. During the time, they saw Makonde art for the first time. With one glimpse, they fell in love and began a lifelong devotion.
In the 1980s, they were recalled by the Chinese Government and moved back toChina. But after a short stay, they made a decision that surprised everyone. In 1990, Li and Han, then in their 40s, quit their promising jobs in governmental ministries, and left China for Tanzaniawith only $8,000 in their pockets. To be closer to the source of Makonde art, the couple decided to settle down inTanzania.
During the years they spent there, they collected tens of thousands of African sculptures and Tinga Tinga paintings. They pored over the artwork with meticulous detail, analyzing and categorizing them and publishing academic research. Due to their contributions to the understanding of African artwork, the Tanzania Arts Council honored them with the title of "Doctors of African Culture and Art."
Another dream
After having settled inTanzania for more than a decade, the two felt a strong desire to introduce Makonde Art to their homeland. In 2003, Li and Han donated 547 Makonde carvings to Changchun, a city where African culture was nearly unheard of at the time. There, the woodcarvings soon gained fame, and tourists and professionals became increasingly intrigued by the art. Encouraged by the achievement, in 2008 Li and Han packed their collection into four containers and shipped them toChina.
"Bringing them back to China and donating them, the whole process was laborious and full of difficulties. But we know our roots are inChina. We love the country, so we hope to see more Chinese people benefit from African culture and art," Li said. The museum, which bears their name in remembrance of the couple's contribution, opened to the public in 2011. It's notable as the first museum in China focused on foreign artwork. Meanwhile, it's also the world's largest Makonde art museum.