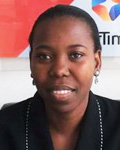 I joined Star Media (

Tanzania

) Ltd., which is a joint venture company between StarTimes and TBC, as a regular member of staff four years ago. Now I'm at management level as a content unit manager. This is something I will never forget, as my life will never be the same again.
I used to read about diplomatic relations among countries, and I've completed my bachelor's degree in public administration and international relations, where I also studied about diplomatic relations. However this company exposed me to the real world of Chinese culture.
Working with the Chinese is not easy if you do not learn how to get along with them. There are some challenges. I remember I used to work with my boss whose way of communication made me uncomfortable. He was strict with us, and put us under a lot of pressure, which made me uneasy to the point of wanting to look for another job elsewhere. But after learning that it is just the way they talk, I went along with him.
There are some differences between the work styles of Tanzanian and Chinese people. The Chinese want things to be delivered in a short period of time. The work needs to be done and the results to be seen. For the Tanzanians, on the other hand, you do work under less pressure to deliver. So it took me a while to get used to their style of work. Up to now I have learned to do my work according to the style they prefer.
What's surprising and comforting is that Chinese bosses can go around the streets to distribute flyers and observe how the market is changing, which seems different to the Tanzanian culture. Through this experience, I have learnt to go to the field of work and see how advertisement activities are being done, or even participate in offline activities.
I remember when I first joined StarTimes, we only had a small group of staff, working to achieve our company's mission: to enable every Tanzanian household to have access to and be able to watch good digital TV and enjoy digital TV, which sounded more like a dream at that time, but today we have covered a large part of Tanzania. As we localize and globalizeTanzania through our media platform, I am grateful to see our company reaching its goal and growing to another level.
(Source: ChinAfrica)