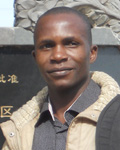 Before coming to

China

, I worked at Tanzania Sisal Board (TSB) in the statistics of sisal production section.

China

 is one of the three leading sisal producers and a leading innovator of sisal products. Many sisal officers were eager to know how Chinese farms are organized in

China

.
My journey was made possible through the cooperation between the China Agricultural University and Sokoine University of Agriculture. In the laboratory of Fungicide and Pharmacology, life was good, however there were some difficulties in trying to cope with cultural differences and technical issues. All the members, professors to students, were very welcoming and always supportive when you are in need. 
During Spring Festival in 2013 I was invited to join Professor Liu Xili at her home, who is one of the most popular teachers in our lab. The evening started by having snacks and fruits which were decorated in a seating room, while a TV was set ready for the festival program on CCTV. 
In addition to my visit to my professor's home, I was invited to visit another family of my classmate in Hunan Province. Here we were able to have a community of Chinese families inviting each other for different meals. A host family would prepare a meal, but the visiting family had to go with something in hand. Here I also experienced a real act of Chinese kindness. During my travels, a man paid for my bus ticket and accompanied me to my host, while refusing all refunds of costs he incurred. 
In my opinion,Chinais a good country to live in and Chinese people are kind enough to ensure foreigners' safety. I hope to have a happier life in China during my remaining study life in Beijing. Therefore I hope all Tanzanians would welcome Chinese people in our country for travel and leisure.
(Source: ChinAfrica)