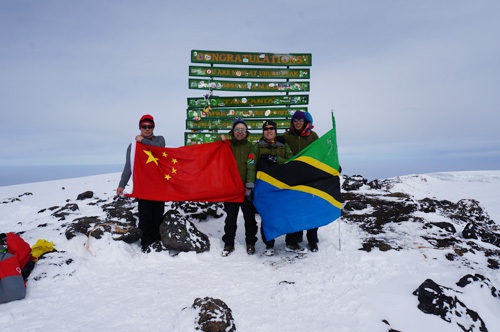 A China-Tanzania mountaineering team on the peak of Mount Kilimanjaro, Africa's highest mountain (FILE)
For many Chinese and Tanzanians, April 26 this year is a day of significance as it marks the 50th anniversary of the establishment of diplomatic relations between the two countries.
The most often discussed feature of this relationship is the Tazara Railway project of the 1960/70s, prompting the question of whether the relationship is only basking in its past glory.
Sun Shangxin, a senior Swahili translator at Foreign Languages Press affiliated to China International Publishing Group, often gives a lot of thought to this question. Sun worked at the Tanzania State Farm pastoral project at Mbarali in the 1970s and was later sent to the project's media office in Dar es Salaam office during the 1980/90s. Since retiring Sun has remained engaged in Tanzania-related activities, including teaching Swahili at Beijing Foreign Studies University and editing for the Swahili channel of China Radio International. Now in his seventies, Sun continues to keep up to date with online news about Tanzania.
"In the past 50 years, Tanzanians and Chinese have always been friends. Relations between the two countries are on the forefront among all China-Africa cooperation, playing a leading and exemplary role. It's a fine example for the cooperation between developing countries," Lu Shaye, Director General of the Department of African Affairs of the Chinese Ministry of Foreign Affairs, told ChinAfrica.
A fine example
In the 1970s, the China-financed Tazara Railway brought the two countries closer than ever. With rapid economic growth throughout the following years, China undertook a more extensive and intimate cooperation with many African countries. In 2013, China-Africa trade volume exceeded $200 billion, with Tanzania ranking 13th among all African countries, at $3.69 billion.
The Tazara Railway played a significant role in supporting the national liberation of Southern African countries and promoting their economic development. In 2008, the torch of the Beijing Olympics was successfully passed in Dar es Salaam. In March 2013, Xi Jinping chose Tanzania as the first stop of his first visit to Africa as China's new president, implying the importance of China-Tanzania relations; later, Zanzibar President Ali Mohamed Shein and Tanzanian Prime Minister Mizengo Pinda visited China.
High-level exchanges during the past five decades have promoted the bilateral cooperation in trade, investment, infrastructure, energy, telecommunications and agriculture. The bilateral trade volume has increased 16 times from $219 million in 2003 to $3.69 billion in 2013. Tanzania mainly exports agricultural and mineral products and imports mechanical and electrical products and textiles. Currently, 95 percent of the Tanzanian goods exported to China, which will increase to 97 percent in 2015, are tariff-free.
"Although Tanzania ranks a mere 13th, trade growth between China and Tanzania is very fast," said Cao Jiachang, Deputy Director General of the Department of Western Asian and African Affairs under the Ministry of Commerce of China.