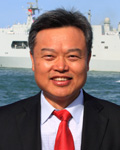 As an African saying goes, "A river runs deep because of its source." This can be used to describe the long-lasting friendship between China and Tanzania over the past half century. This year marks the 50th anniversary of the establishment of Sino-Tanzanian diplomatic ties. In this golden jubilee period, Lu Youqing, China's Ambassador to Tanzania, shared his views with ChinaAfrica on the past and future of the bilateral relationship. Excerpts of the interview follow:
ChinAfrica: What is the status of the Sino-Tanzanian relationship today?
Lu Youqing: The friendship between China and Tanzaniais time-honored. About four decades ago, more than 50,000 Chinese people came all the way toTanzaniaand built the world-renowned TAZARA Railway together with the local people, promoting the economic development of the two nations and supporting the independence and emancipation efforts in nations of the region. The railway has since become a symbol of Sino-Tanzanian friendship.
As time goes by, bilateral cooperation is continuing to deepen. While providing necessary aid to African countries within its capacity, China will lay more emphasis on supporting African nations' capacity-building efforts. This is in line with Chinese President Xi Jinping's remarks of "not only giving them a fish, but teaching them to fish." Through this win-win approach, China-Tanzania cooperation will gain more momentum.
So far,China has invested $2.5 billion inTanzania, its second largest foreign investor. Over 500 Chinese enterprises are expanding their operations in the country, creating about 150,000 jobs.Chinais alsoTanzania's largest trading partner, with bilateral trade reaching $3.7 billion in 2013, up by 49 percent year on year. At least 350,000 Tanzanians are engaged in trade or related business with China. Projects jointly constructed by the two sides include airports, highways, pipelines and power plants. When they are completed, the infrastructure and energy supply will be greatly improved inTanzania.
How important is agriculture in bilateral cooperation?
Agricultural exchanges, including investment, agro-technology, joint research and training, have been the focus of cooperation. The agricultural demonstration center constructed with China's aid China and the sisal farm, with investment from a Chinese company, help improve the local agricultural technology.  When Tanzanian Prime Minister Mizengo Pinda visited China last year, he and Chinese Premier Li Keqiang witnessed the signing of the memorandum on China-Tanzania Modern Agriculture Demonstrative Industrial Park to boost cooperation in this field. The industrial park will soon open.
Tanzaniais rich in agricultural resources, while China has advanced technology and a vast market. These make a promising future for the two sides in agricultural cooperation.
What contributes to the rapid increase inChina's investment inTanzania?
There are four reasons. The first is that an expanding Tanzanian market provides more investment opportunities. Second, the Tanzanian Government values foreign investment and creates a favorable business environment. Third, the visit of Chinese President Xi Jinping early last year has invigorated bilateral relations and fortified Chinese investors' confidence. And lastly, the two sides both strive for sincere win-win cooperation and have solved all problems encountered in a timely, efficient manner.
What do you think of the impact of the Confucius Institutes and Chinese culture centers on people-to-people exchanges between China and Tanzania?
Chinese people have created the lush Chinese culture in the long history. During recent years, cultural exchanges between China and Tanzania have yielded fruitful accomplishments. We have held a "Focus on Africa - Happy Chinese New Year" event inTanzaniafor five consecutive years to showcase Chinese culture in the country. Chinese TV dramas, like A Beautiful Daughter-in-law Era, were well received by local people. There are two Confucius Institutes established in the University of Dar es Salaam and University of Dodoma for Tanzanians to learn Chinese language and culture.
There will be a series of events to celebrate the 50th anniversary of the establishment of bilateral diplomatic ties this year, including theatrical performances, climbing Kilimanjaro, Chinese animation show, book fair and film week in Tanzania as well as Tinga Tinga Painting Arts Exhibition inChina.
Are Chinese enterprises shouldering their corporate responsibility inTanzania?
I have been encouraging our Chinese enterprises to beaware of their obligations as they expand their operation abroad. Generally speaking, they did a great job. Chinese companies inTanzaniahave created a lot of jobs and improved locals' working environments. They abide by local laws and customs and contribute to local tax revenue. Besides the business scope, they generously donate to local schools, hospitals, orphanages and charity organizations. Whenever there are emergencies, Chinese workers would come out and lend a helping hand. In the future, I will continue to support Chinese companies to contribute more in this regard.
(Source: ChinAfrica)