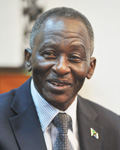 Fifty is the age when a person knows his fate, according to Confucius. It can also be true in terms of friendship between two countries. On April 26, China and Tanzania celebrated the 50th anniversary of the establishment of diplomatic relations. Before the celebration, Abdulrahaman A. Shimbo, Tanzanian Ambassador to China, sat down with ChinAfrica reporter Ni Yanshuo, to share his thoughts on the development of bilateral relations in the past half a century.
ChinAfrica: The Tanzam Railway is a symbol of Sino-Tanzanian friendship. What's your opinion on the development of the bilateral relations now?
Abdulrahaman A. Shimbo: Yes indeed, the "Tanzania-Zambia Railway," famously known as the TAZARA, is the most iconic symbol of our two countries' unwavering and close brotherly relations. It is truly a remarkable example of China's selfless act toward its friends, at a time when China itself had fewer economic, technological and military capacities. The TAZARA that was completed in the early 1970s served as a lifeline to transport goods to Zambia and other Southern African states, and take their exports to foreign countries during Southern Africa's liberation struggle and beyond.
Right now, the focus is more on the win-win situation, where by the two sides engage more on investment and trade activities and education pursuits for our youth. The impact of this new trend of cooperation is immense and felt in our country's economic growth, boasting billions of U.S. dollars in earnings that contribute to improving the people's quality of life of both countries.  
Tanzaniawas the first African country Xi Jinping visited after he was elected Chinese president. In his visit, he focused more on cultural exchanges. How do you see this between our two countries?
President Xi Jinping's visit toTanzaniais indeed very special and a loud political statement to the world that no matter what status China has gained economically at the moment, it has never forgotten its closest friends. Many important issues of mutual benefit to our two sides were concluded during this particular visit and on the cultural issue, I think the following could boost our cooperation:
- Exchange programs of athletes in terms of training and coaching;
- Increased assistance to scholars who wish to learn the Chinese language and Kiswahili;
- Exchange visits between our traditional dancers and acrobats; and
- Increased awareness of the importance of cultural tourism on both sides. 
Tanzaniasuffers greatly from elephant poaching. Recently,Chinaand other countries launched Operation Cobra II to crack down on wildlife poaching and smuggling. How do you see the two countries cooperating in protecting wildlife?
This has indeed been our major struggle in conserving our wildlife for a long time. We thank China for being vigilant and launching stern measures to fight and frustrate the market for ivory and other related products in its sovereign boundaries. This fight needs concerted efforts from the international community. We strongly believe that as a united front, we can overcome the poaching syndicates, starting with decisive attacks against poachers at the wildlife homesteads, moving on to transporting companies and finally to the buyers. If buying stops, the killing can stop too. So, Operation Cobra II was really a bright ray of hope for our country's internal measures against poachers, that has made it clear to all illegal traders in this terrible business thatChinais not the place to profit from these dirty deals.
We have agreed to set up a joint working group between our two sides' responsible organs, mandated to combat this illicit trade, basically comprising personnel from Ministries of Public Security and Anti-Corruption Bureaus to exchange intelligence and work together to formulate tactics designed to clear up this filthy business. 
Cross-border infrastructure is very important in African integration, and China is a veteran in infrastructure construction. What are your thoughts on China's role in terms of promoting African integration?
Easing the movement of people and goods is one of the basic ingredients for any integration to prosper. African integration is not exempted from this fact and as a result, all the key players have always strived to improve infrastructure crucially needed in keeping integration progressing. Thanks to China's finance facilitating policies, African infrastructure is booming. Many Chinese companies are investing right now in African countries through bilateral arrangements as well as through agreements on regional blocs. 
We have plans underway to joinUgandaand Kenya-Rwanda toBurundiby railway line in the East Africa Community (EAC). We also have plans to join the TAZARA with another railway line to theDemocratic Republic of the Congo. We believe in the impressive standards of Chinese technology in roads, railway and ICT (information communication technology) facilities construction. And China is performing wonders already, so no doubt we will both emerge as winners in this endeavor.
(Source: ChinAfrica)