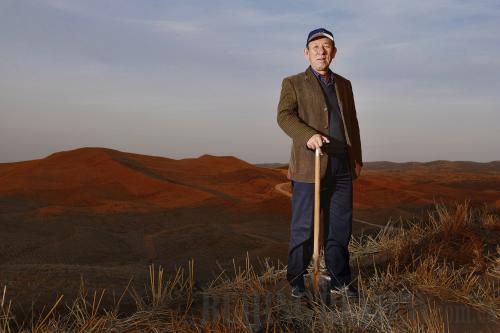 Wang Youde, 59, head of the Baijitan Nature Reserve in Lingwu City, northwest China's Ningxia Hui Autonomous Region, stands at the edge of Mu Us Desert in north China's Inner Mongolia Autonomous Region, on November 19, 2013 (WANG PENG)
Baijitan Nature Reserve plays a big role in protecting the nearby airport as well as thousands of hectares of farmland from sandstorms. It covers an area of 70,000 hectares, 70 percent of which was desertified when established in 1985, when Wang Youde was assigned as the deputy head. He faced two severe challenges: serious desertification and outflow of labor. "I focus only on two tasks, green the sand dunes and enrich our staff," he said.
After decades of effort, Wang has brought that figure down to 50 percent, and a variety of rare species have been well-protected.