UPDATED: January 2, 2014

Web Exclusive
Chinese People Devoted to Reform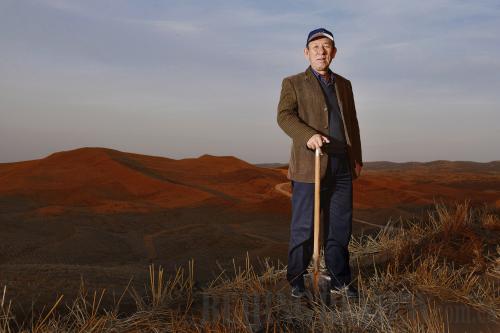 Wang Youde, 59, head of the Baijitan Nature Reserve in Lingwu City, northwest China's Ningxia Hui Autonomous Region, stands at the edge of Mu Us Desert in north China's Inner Mongolia Autonomous Region, on November 19, 2013 (WANG PENG)
Baijitan Nature Reserve plays a big role in protecting the nearby airport as well as thousands of hectares of farmland from sandstorms. It covers an area of 70,000 hectares, 70 percent of which was desertified when established in 1985, when Wang Youde was assigned as the deputy head. He faced two severe challenges: serious desertification and outflow of labor. "I focus only on two tasks, green the sand dunes and enrich our staff," he said.
After decades of effort, Wang has brought that figure down to 50 percent, and a variety of rare species have been well-protected.
Dong Mingzhu, 59, Board Chaiwoman of Gree Electric Appliances Inc, the top-selling air-conditioning manufacturer in the world, at the company's exhibition hall in Zhuhai City, south China's Guangdong Province, on October 31, 2013 (LIU DAWEI)
Dong Mingzhu attributes her business success to the art of "suffering loss." "I never use the advantage, or we call it disadvantage, as a woman, while at work with my male colleagues," Dong said.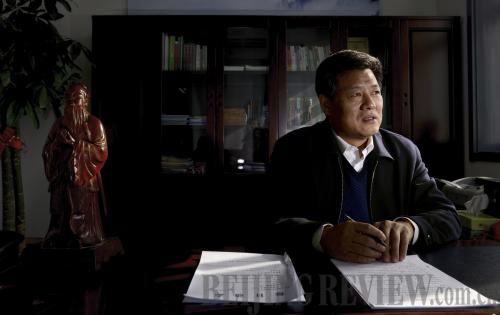 Zhang Guohua, director of the education bureau of Weifang City in east China's Shandong Province, at his office on November 26, 2013 (WANG JIANHUA)
"I prefer to do first, when I'm sure it's feasible, rather than waiting for orders. It may be approved as I am doing it," Zhang Guohua said.
During his 11 years of grassroots practice, most of his experiences have been written into guidelines of the education system.