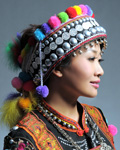 Yuan Xiaotang

'Nowadays, some men still think women should stay at home, assisting their husbands and bring up the children. They say the outside world is full of deception and not suitable for women. I think the truth is just the opposite. Women have a special soft power, so female leaders can handle certain issues better than their male counterparts," Yuan Xiaotang said.

Slender and capable, no one could imagine such a charming young lady could be a vice mayor, in charge of the most challenging economic work.

Born in July 1977 to a Hani ethnic minority family and without Party affiliation, Yuan was appointed vice mayor of Qujing City, southwest China's Yunnan Province, after passing the province's civil service examination in 2012. Assuming the position at the age of 35, she became the youngest mayor ever in the province, a legendary achievement.

The Hani are one of China's 55 ethnic minorities, and have a population of 1.25 million. The ethnic group lives in concentrated communities in Yunnan.

Yuan was born in Ninger County, a national-level poverty-stricken county in Pu'er City in Yunnan. Currently she works as vice mayor of Qujing, the second biggest city in Yunnan and is responsible for the economic work of the city.

Responsibilities

After graduating from the Nanjing Technical College of Special Education in east China's Jiangsu Province, Yuan joined the Disabled Persons' Federation in Pu'er in April 1996, where she worked for a whole decade. In 2008, she was appointed vice county magistrate of Zhenyuan County, Pu'er. In 2012, she was appointed vice mayor of Qujing.

Some people said Yuan's career rise was so quick that it was like she boarded a rocket. When asked about it, Yuan smiled and admitted her successful promotion from a county in the border to the second biggest city in Yunnan was quite difficult, but she made it.

"Opportunities are only for those who are prepared to avail them," said Yuan while talking about the secret of her success.

"First of all, continuing to learn is very important, and learning should remain a habit for life," she added. She considers a good theoretical and political knowledge base to be very important for government officials especially in impoverished areas in the border.

Recalling the civil service examination, she said the time to prepare was quite limited. She was informed of the exam only 10 days before. Days before that, she was busy with a disaster relief task. Therefore, the knowledge accumulated previously played an important role in her success at the exam.

"In addition to a sound knowledge base, work performance is also extremely important," she said.

Yuan sat the exam in August 2012, ranking top in both the written test and the interview. In 2012, Yunnan selected a number of deputy department level cadres through the civil service examination. A total of 25 officials born in the 1970s passed the exam, and were appointed to positions in 13 departments across Qujing and Yuxi cities, as well as several colleges and universities and state-owned enterprises.

"My most notable achievement at work is that I have built Zhenyuan into a state-level hygienic county, turning it from the dirtiest county of Pu'er to the cleanest," Yuan said with pride.

Zhenyuan is an autonomous county of Yi, Hani and Lahu ethnic minorities, and also a national-level impoverished county which receives poverty relief assistance from the Central Government every year. To build such a place into a state-level hygienic county seemed impossible. But Yuan took up the challenge and achieved it.

"It was the result of the joint efforts of every citizen," she said. "At that time, the whole county was enthusiastic. All departments worked together, and the people actively participated."

Achieving the mission entailed numerous days and nights' hard work. Yuan was always working on the front line. Every day, she led her team consisting of urban construction, the industry and commerce administration, traffic police, and community staff to the hygiene management sites. She focused on five major areas, including the overall environment, the suburb linking the urban and rural areas, infrastructure, farmer's market, and small trading centers.

At every site, she tried to enhance the people's awareness of hygiene. She talked to businessmen and residents, persuading them to live up to higher standards, cleaning the dirty places together with the hygiene workers along the way.

Thanks to her team's relentless efforts, the local attitude changed from resistance to cooperation. At last, they realized the significance of creating a better environment and many voluntarily participated in the program.