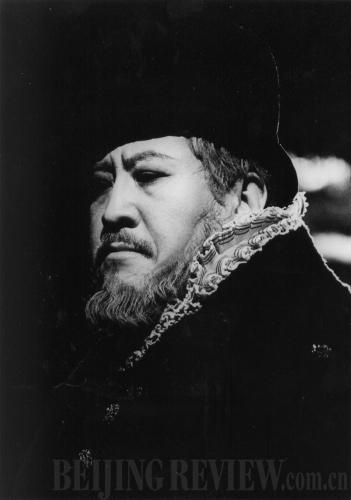 VERDI'S KING PHILLIP II: Hao Jiang Tian has performed in some of the world's greatest opera houses in France, Spain, Holland, Portugal, Chile, Japan and China (BONINI)
"It was 12 pages. I opened it and I didn't know where to start to learn. I didn't know Italian and it was hard even to find a recording at that time. I worked day and night on this aria. The first time I sang for him he said, of course, that I didn't sing it well and that I had no clue to understanding this aria at all. My diction was terrible but he said one day I may sing this aria in the future, and he was right," Tian said. "Exactly 20 years later I performed this in Italy. I was probably the first Chinese singer to perform this aria in Italy."
Tian will also perform the Chinese classic Millions of Horses on the Prairie, which he used in 1977 to successfully audition for the Central Conservatory of Music.
"This song changed my life," he said, "from factory worker to a singer."
Each song in the concert will be deeply personal, in particular, Mother's Stories by Chinese singer Qu Xixian. Tian says he sings it in his dressing room before each performance to quell stage fright.
"A children's song will bring you back to pureness. We always should be a child," he said. "I'm a nervous guy before I go onstage. So, my secret is to play this song to calm me down."
Tian attributes his success to hard work. After graduating from the University of Denver, he was making ends meet as a piano player in a bar. Driven by a desire to marry the love of his life - Dr. Martha Liao, a biochemist who has been Tian's faithful partner for many years - Tian said he drew on his life experiences to understand and emote the characters he played on stage. He prepared himself for his big break.
"For a Chinese singer it is extremely difficult, because it is Western culture and high art. In Chinese, we say it is coldest at the top of the mountain. The opera world is like that, it's small. Only a handful of singers can reach the top. Is there room for a Chinese bass? I didn't know," Tian said. "My voice is not a world-class voice. Also, my sensibilities of the music are not world class. I started late. I came to this country already at the age of 29. So, I worked hard-at least three or four times harder than my Western colleagues."
Developing a strong connection with his characters has propelled Tian into a relatively long career at the Met and worldwide acclaim. Now, he gives back in the form of I Sing Beijing, fostering and mentoring young Chinese and Western opera singers.
"If we can help a little bit, it means a lot to a struggling singer. Martha and I have been helping young singers for over 20 years to study and find scholarships and bring them to see operas and meet directors," he said. "The change in China is huge."
The author is a contributing writer to Beijing Review, living in New York City