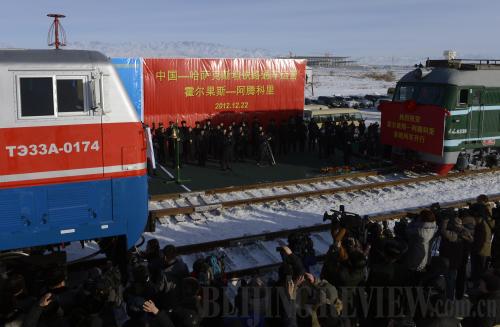 ASIA EXPRESS: Trains from China and Kazakhstan set off during the inauguration ceremony of the second cross-border railway linking the two countries in Korgas, northwest China's Xinjiang Uygur Autonomous Region, on December 22, 2012 (ZHAO GE)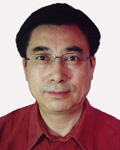 Compared with its outstanding achievements in maintaining regional security and stability, the Shanghai Cooperation Organization (SCO)—which consists of China, Kazakhstan, Kyrgyzstan, Russia, Tajikistan and Uzbekistan—has not made much progress in terms of encouraging multilateral economic cooperation. Among the many obstacles blocking economic cooperation, the most problematic ones stem from poor relations among Central Asian countries. Regional cooperation exhibits a tendency of de-integration as situations inside and outside the region have changed, posing a major challenge to the future development of the SCO.
Team Central Asia
Central Asian countries managed to cooperate temporarily after the breakup of the Soviet Union, but lately that cooperative spirit has been replaced by competition and cautiousness. Although these countries signed many political cooperative agreements 10 years ago, few have been inked in recent years. There has been little in the way of legal documents on economic cooperation signed among countries in the region. The current dilemma persists, stubbornly, for a variety of reasons.
Sour political and diplomatic relations are among the most troublesome issues. The Soviet Union's disintegration left behind lasting disputes over territory and water resources as well as ethnic and religious clashes. Mutual trust in these countries has weakened, while misunderstandings grow more rigid. Deterioration of political relationships has had a direct influence on economic cooperation.
There is not enough momentum currently to drive cooperation in the region. Given their similar economic structures, Central Asian countries often turn to partners outside the region for economic cooperation and lack the will to work with one another. Statistics show that trade between Central Asian countries and countries outside the region are higher than trade among Central Asian countries themselves. Economic cooperation in the region has seen little progress due to insufficient inner drive.
Central Asian countries stand at differing economic development levels, further complicating cooperative efforts. For example, per-capita income in the better developed Kazakhstan is over 10 times higher than in Tajikistan and Kyrgyzstan.
Conflicting goals make reaching consensus a difficult challenge. Central Asian countries have more disagreements than agreements on cross-border cooperative programs in the fields of transportation, energy and telecommunications. To make matters worse, they are faced with capital shortages.
When relationships between Central Asian countries deteriorate or stall, the ensuing delay in their cooperation brings a negative influence to the economic development of related nations. Stagnated economic development, in turn, exacerbates social conflict. Turbulent power transitions have taken place twice in Kyrgyzstan in recent years. Tajikistan is now being confronted with constant internal disorder and rampant separatist activities. Hidden dangers lie in Uzbekistan and Kazakhstan due to struggles over power transitions. As political elites in Central Asian countries are dragged down by domestic events, they pay more attention to present interests instead of long-term, comprehensive programs.
Internal political changes within Central Asian countries often deliver significant blows to the SCO's long-term plans. Due to their limited capability and development levels, Central Asian countries miss out on significant cooperation with the SCO. These countries have yet to receive tangible benefits from the SCO's programs on disaster relief, agriculture, water resource development and infrastructure construction.